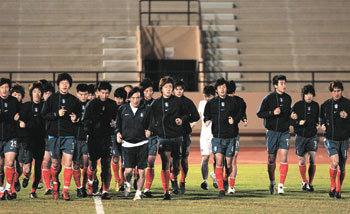 "All set to bring news of victory."
In the build-up to the second round of the World Cup qualifier against Saudi Arabia, Johannes Bonfrere, coach of the Korean national soccer team, declared, "Our analysis is complete. Since we know our opponent, we will be able to please our fans."
The match-up is set to be the biggest obstacle in Korea's bid to enter the World Cup. The tickets to Germany, awarded to the top two teams in each group, will be within Korea's grasp if we can defeat Saudi Arabia on Saudi territory for two straight wins.
Nothing has changed in the Korean lineup since last month's victory over Kuwait (2-0 win) on February 9, except that Korea's "Big Brother" Yoo Sang-chul (Ulsan) will be filling in for defense in place of Yoo Kyung-ryeul (Ulsan). Lee Dong-guk, who led Korea to victory with an impressive goal against Kuwait, is set to deliver up front as the team's striker. "Middle East Killer" Lee Dong-guk, who has scored nine goals together with Bonfrere, is in best condition.
Seol Gi-Hyun (Wolverhampton) will be in charge of the left-flank attacks, while Lee Chun-soo, set to make a comeback to the K-league, will take on the right. The left and right midfield positions will each be filled by Kim Dong-jin (Seoul) and Lee Young-pyo, who have good crosses, while Park Ji-sung (Eindhoven) and Kim Nam-il (Suwon) are set to play in center midfield. Yoo Sang-chul, Park Jae-hong (Jeonnam), and Park Dong-hyuk (Jeonbuk) will form the Korean three-back system. The match against Saudi Arabia will be Yoo's 120th A-Match (matches between national teams), making him only the third Korean to achieve this feat.
Saudi Arabia's Argentine coach Gabriel Calderon has high hopes for his skilled "Veteran Goalgetter" Al-Jaber. It is said that Al-Jaber, who scored against Uzbekistan as a substitute, is likely to start the match this time.
Korea last defeated Saudi Arabia in October 1989, during the qualifying round of the Italian World Cup (2-0). Past record between the two countries remains close, at three wins, five draws, and three losses for Korea.
Jong-Koo Yang yjongk@donga.com