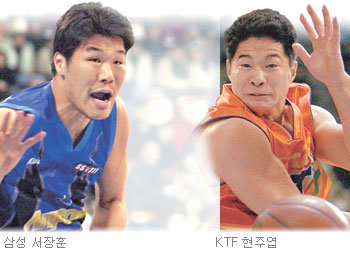 After spending almost 20 years together in basketball, Samsung Thunder`s Seo Jang-hoon and Hyun Joo-yeop of the KTF Magic Wings finally meet for the first time in the Korean Basketball League`s six-team playoffs, starting Friday in Busan.
Their long relationship with basketball was sometimes bitter. Seo, a year older than Hyun and a fellow player in the school team from elementary through high school, was once close enough with Hyun to attend his elementary school graduation ceremony in 1988. Although they were dominant as teammates playing for Whimoon middle school and high school, their marked individualities made them clash sometimes. After Seo entered Yonsei University in 1993, Hyun went to Korea University the next year, thus forming a bitter rivalry. The two were drafted together by the SK Knights in 1998, but Hyun was later traded to Goldbank, which is KTF now.
They expressed strong desire to defeat each other in the playoffs. Seo did not hide his wish to move to the second round, which he and his Samsung Thunders have not done in the two years since Seo joined the team. Hyun is desperate, too, since this is the first playoff appearance in his five-year career as a professional basketball player.
Seo, with a cast on his neck, said, "Just consider me and Hyun as partners playing great games." He also said, "If we just stay focused and get things done as we used to, I think we will have great game."
Hyun said, with confidence, "Although we didn`t have enough time to play with Dickens, the new addition to the team, since we have prepared for the game for a long time, I think we can at least beat Samsung."
Historically, out of 16 best-of-five playoff quarterfinal games, the winner of the first team went on to the semifinals 15 times, suggesting the importance of taking the first game. Seo and Hyun know this and they are prepared to pour everything they've got into the game today.
Jong-Seok Kim kjs0123@donga.com