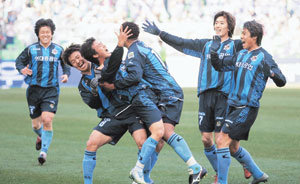 The K-League began a new season with bagful of goals on Sunday. In the opening day of the 2005 Samsung Hauzen Cup Professional K-League, a total of 13 goals were scored.
In particular, in the match between the Jeonnam Dragons and FC Seoul held in Gwangyang, the two teams scored six goals in total. Jeonnam and Seoul, led by managers Huh Jeong-moo and Lee Jang-soo, netted three goals respectively to tie the game at 3-3.
Raimundo Nonato of FC Seoul, the best goal getter last season when he was with Daegu FC, recorded a hat trick, and Jeonnam's Noh Byung-joon had two goals.
Jeonnam's Adrian Neaga, a former member of the Rumanian national team, had his first goal of the season. In the 15th minute into the game, Kim Do-geun, dribbled the ball towards the left side of the field, passed the ball to the center, and Neaga executed a shot to the right-hand side of the net.
About 13 minutes later, Nonato made it even with a header from the left side after Kim Chi-gon redirected the ball with his head after Seoul's Portuguese player Ricardo shot a corner kick. Nonato scored again in the 42nd minute and gave FC Seoul the lead.
However, Jeonnam continued to take the offensive. Noh Byung-jun received Yang Sang-in's corner kick and netted a goal with a header 53 minutes into the game, and five minutes later, Noh scored again from the right-hand corner to put his team in front. However, FC Seoul's Nonato again tied the game at three with a header off Ricardo's corner kick in the 69th minute.
Huh Jeong-moo, who left a coaching position on the national team under head coach Jo Bonfrere to became the head coach of Jeonnam, and Lee Jang-soo, who quit the head coach position of Jeonnam at the pressure of club's management staff and moved to the FC Seoul, fascinated the 20,000 fans in the stadium with their charisma and strategies, even though the match ended in draw.
Ulsan Hyundai beat Gwangju Sangmu, 2-0, with goals by Lee Jong-min and Kim Jin-yong. Bucheon SK won over Daegu FC, 2-1, thanks to goals by Ricardo Irineu and Kim Gil-sik.
The game between the Pohang Steelers and Incheon United was postponed due to heavy snow, and will be held on March 27 in Pohang.
Jong-Koo Yang yjongk@donga.com