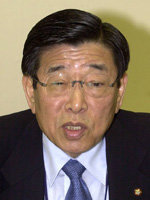 Kim Un-yong, vice-president of the International Olympic Committee (IOC), is about to lose his place in the international arena.
The IOC held an executive board meeting on February 11 in Torino, Italy, where 12 members, with the exception of IOC President Jacques Rogge, unanimously agreed to a recommendation of the expulsion of Vice-president Kim, whose guilty charges of embezzlement were confirmed by the Supreme Court last month.
Therefore, the IOC is planning to propose the expulsion of Vice-president Kim at the IOC session in Singapore that is to be held in July. The expulsion will be decided when more than two-thirds of the 117 members agree on the proposal.
For the time being, Vice-president Kim seems to have few chances for redemption. In 1999, about 10 IOC members involved in the 2002 Salt Lake City Winter Olympics hosting scandal were either expelled or forced to retire, and Vice-president Kim received a "grave warning" at that time. Also, ethical principles have been more enforced since the inauguration of "Mr. Clean" Rogge as the new president in 2001, and last year, Indonesia's Mohamad Hasan was expelled from the committee for his involvement in corruption scandals that occurred within his own nation.
Yun Kang-ro, IOC expert who is also the head of the International Sports Diplomacy Institute, assumed that "honorary President Juan Antonio Samaranch is still an influential figure in the IOC and his opinions count," and predicted, "Honorary President Samaranch passed on the power to current President Rogge while fostering Vice-president Kim as a restraining force, but an important matter related to his home country of Spain, the notion that Spain is trying to host the 2012 Summer Olympics in Madrid, is also at stake, so it might not be easy for him to get everything he wants."
Hwan Soo Zang zangpabo@donga.com