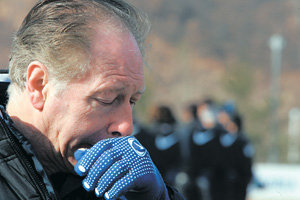 "Throw yourself!"
The players on the South Korean national football team restlessly ran after the ball under the direction of Johannes Bonfrere, the head coach of the national team, on Sunday at the Paju National Football Traning Center (NFC).
"You are allowing space to the opponents because you are not following my words! Why do you neglect the importance of defense when the ball is coming into the dangerous spot?" Bonfrere shouted as his players were soaked in sweat.
Bonfrere seemed to be still upset from the team's 0-1 loss to Egypt on Friday night. The coach said that he will get the team in shape by having four hours of training a day from Sunday until the day before the match on Tuesday.
The match against Kuwait is a very crucial one in order to qualify for the finals in the 2006 World Cup in Germany. Taking advantage of playing at home and winning this match is essential.
Kuwait, ranked 54th in the FIFA rankings, is definitely weaker than Korea based on recent statistics. In their most recent match, Korea, 21st in the FIFA ranking, beat Kuwait 4-0 in the Asian Cup Tournament in July of last year. However, in all-time play, Kuwait has the edge with eight wins, six losses, and three ties. After Slobodan Pavkovic from Serbia-Montenegro took over the team's head coach position late last year, their defense has strengthened and their attack has become faster.
The Korean team, having played miserably in its match against Egypt due to lax defense, needs to improve its backfield in order to transform itself into a stronger team. Seol Ki-hyeon of Wolverhampton, who recorded four goals and two assists in seven games last month in the English Premier League, will be added to the roster, and Park Ji-sung and Lee Young-pyo, both from PSV Eindhoven, will start to reinforce the offensive line. However, the problem still lies on the defensive line. Yoo Sang-chul of Ulsan Hyundai, who is recovering from injury, is not in his best form, and Park Jae-hong of the Jeonnam Dragons and Park Dong-hyuk of Jeonbook Hyundai are still shaky.
Bonfrere said that when players stay alert, the weaknesses can be mended. The World Cup preliminaries are something that cannot be undone, and winning is the only way out, Bonfrere added.
Soon-Il Kwon stt77@donga.com