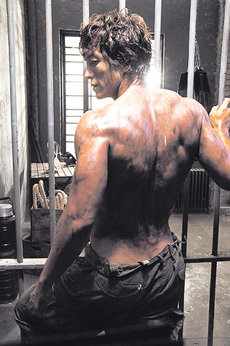 Actor Bae Yong-jun, also widely known as "Yong-sama" in Japan, is the center of attention again, as he published his photo book. He is known to have made a chiseled body by exercise and diets high in protein, such as chicken breast.
Also notable is another actor Soel Gyung-ju's diet, who is known to change his size dramatically. He put on weight for four months up to 94kg to fit the character of his new movies, "Yoekdosan," and then returned to his usual slim shape with some 70kg within just three months.
Then, what's their secret to keeping in good shape? Galvanized with female fans' praise of their body shape, ordinary Korean men are now grabbing their barbells again. Let's check what they should and should not do.
To Grow Muscles, Thorough Strategy and Persistence Needed-

Did Bae work out all day long to make his chiseled body, which is reminiscent of Greek sculptures? The answer is "No." Long hours of workout alone would not make you a "momzzang," or a knock-out body. You need to persistently and thoroughly manage your diet and exercise. You can feel the effects of muscle training normally at least eight weeks after you start it. If you are overweight, you need to slim down first by doing exercise that increases demand of oxygen to your muscles.
If you are a male adult, repeat three sets of muscle training at seven-10RM (Repetition Maximum). RM here means the maximum load that you can lift in an exercise. You are recommended to rest for 30-90 seconds between different sets of your training. In the case of women, 15-20RM is suitable. It is better to start with big muscles and finish with small ones.
Regarding diet, you need to reduce intake of sugar and salt. Sugar is high in calories and does not help you feel satisfied, thus increasing fats in your body. Salt stimulates appetite, and in return, increases your weight. To keep your hard-earned muscles, you should make sure to reduce the portion of your diet when dropping your workout hours.
Drastic Weight Loss Is Dangerous-
Actor Seol increased his size by eating more and slimmed down by eating less and exercising. The two main factors that change your weight is body fat and muscles. There is a high risk of imbalance between the two factors if you try to increase and decrease weight in a short period of time.
If you eat much and move little, unburned calories are accumulated in your body in the form of fat. On the other hand, if you try to shed pounds in a short period of time by eating little and exercising excessively, you will lose not only fat but also muscles. That is because glycogens in your muscles tend to decompose to energy when there are insufficient supplies of calories.
If you fail to lose body fats while losing weight, your waist size does not decrease. The reason is that body fats you gained are more bulky than muscles that you lose when dieting. Accumulated fat between the intestines are usually a cause of chronic diseases among male adults.
Dehydration is another possible side effect that you might experience while drastically reducing weight. A sudden decrease in water in your body compromises function of the kidneys and also makes you dizzy as it drops your blood pressure. In the worst case, you can develop renal failure due to imbalance of electrolytes in your body, such as kalium.
It is not easy to focus on losing body fat. It is hard to consume more than 300Cal per day by working out. It is better to reduce your fat intake, increase protein in your diet and make sure to lose weight gradually.
(Assistance from Professor Kang Jae-hum at Seoul Paik Hospital, Professor Park Yong-woo at Gangbuk Samsung Hospital)
TK Sohn sohn@donga.com