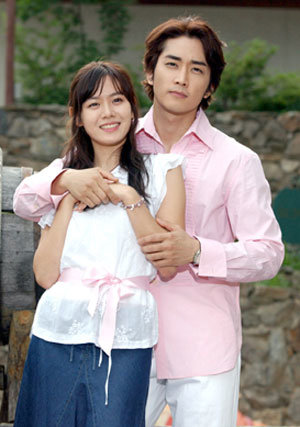 ˝Shall we sing a song about stars?˝ There were stars shining in the night sky of early summer at Muju Resort, a sky resort facility located on the foothill of Deokyu Mountain in North Cholla Province.
Yoon Seok-ho, 46-year-old unmarried producer of a new KBS2 TV series `Scent of Summer,` is stilling dreaming about first love. He is known for such hit series as `Fall Story` and `Winter Song.`
˝I believe in love and density. You see someone and you fall in love at that moment. Your heart starts beating before your head or eyes begin to work.˝
Yoon`s previous works, `Fall Story` and `Winter Song,` have caught eyes of viewers in Southeast Asia as well as at home with beautiful scenery of Korea.
The new 20-part `Scene of Summer` will be aired every Monday and Tuesday night beginning July 7.
While `Fall Story` and `Winter Song` were love stories set in secret of birth and amnesia, the new series will be about a woman`s implanted heart remembering its old love.
Hye-won (Son Ye-jin), who got a new heart through an implant surgery, one day meets a man named Min-woo (Song Seung-heon) whom the donor loved before she died. Her heart recognizes Min-woo and begins beating fast, remembering the memory of old love. Hye-won then gets torn between two men, Min-woo and Jeong-jae (Ryu Jin), a planning manager at a resort facility who has loved her for some time.
If viewers compare `Fall Story` to brown color and `Winter Song` to white, `Scent of Summer` will be green. The series will be mostly set in Muju Resort, Boseong green tea farm, herb farm, tree garden, Goheung Peninsular and isles off the West coast, quiet places covered with trees.
A sun-shower will serve as a main motive in the drama. It is a shower that comes out of sudden from the sunny summer sky. It is said in Korea that the rain falls when `a tiger or a fox gets married.`
˝It is also the most beautiful scene to camera lens, with water drops reflecting the sun. Youth and young love are like the sun-shower in many ways.˝
"Their eyes look so gentle," Producer Yoon made a short answer to the reason for casting Song Seung-heon and Son Ye-jin. Especially, this is the second time for Song to appear in his dramas following `Fall Story,` suggesting that he was aware of the popularity of the drama in the Chinese culture.
In the first shot of the drama on the same day, there were officials from the Korea National Tourism Organization (KNTO), President of the Taiwanese Alpha Record, which made a contract for its copyright in the Chinese culture, and reporters from Taiwan. Therefore, people in North Cholla Province expect that the shooting site will be a tourist attraction as Pyeongchang of Fall Story and Sokcho of Winter Song.
In particular, Muju Resort, which is stagnant compared to the time of its opening in 1990, is actively supporting the shooting of the drama. It will remodel the real main buildings and change the lightings in order to promote the reality of the drama, in which the interior designer Song and florist Son renovate the resort.
To the question why he skipped spring and made a drama for summer he said: "There is a saying, `Spring days go by,` but I`d like to say they will `come.` I started dramas with autumn and I wanted to finish with `hope.` That`s why I spared spring."
Seung-Hoon Cheon raphy@donga.com