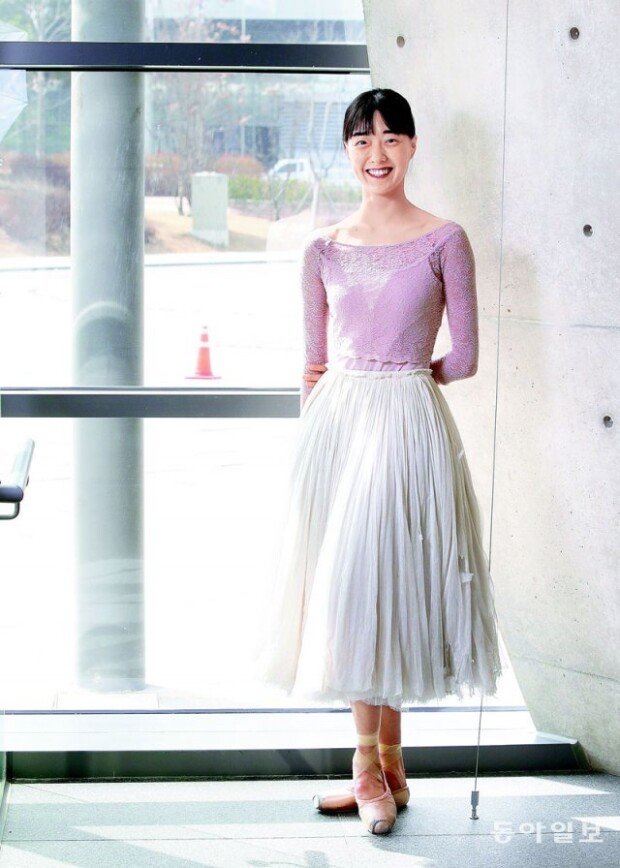 "It was seven years ago when I played the role of Giselle, helping my partner as we prepared for the graduation project for the Korea National University of Arts. I didn't even imagine that I would play the role of Giselle at the Paris Opera Ballet (BOP). I believe my dreams have come true as a dancer," said Kang Ho-hyun (age 27), who plays for the Paris Opera Ballet, the oldest ballet company in the world of 354 years.
Your reporter met with Kang at the LG Arts Center in Seoul on Friday. Kang, who is sujet, or soloist, level at the ballet company, was assigned the role of Giselle at the Paris Opera Ballet's performance in Seoul from March 8 to 11. Giselle was first performed in the world by the BOP in 1841. The dance of the Willis, the ghosts of unmarried women who died after being betrayed by their lovers, is considered the highlight of the ballet performance.
"The dancers must move lightly to give the impression that they are floating in the air like ghosts. You must move your legs very quickly, but the top part of your body should move smoothly as if embracing the air. It is a very skilled dance," she said.
As sujet, Kang must learn group and soloist dances and practices from 10 a.m. to 7 p.m. "Sometimes I eat two meals for dinner because I don't have any time for lunch," she said.
For Kang, who competes and works with leading dancers in the world, ballet is her source of happiness and part of everyday life. As a child, she was quite reserved and loved to dance ballet which she learned at a local sports center. She spent all her time at ballet academies when she started to study ballet in earnest in the fifth grade of elementary school. She advanced studies at the Yewon School, Seoul Arts High School, and the Korea National University of Arts as a ballerina, but her practical skills performance had always been just average. Nonetheless, she loved dancing. "Rather than comparing myself to others, I focused on myself, thinking about how far I could go if I worked hard enough. I think this was a good fit with the BOP, which also focuses on maximum potential of dancers," she said.
This is her seventh year since joining the ballet company in 2017. She was promoted to sujet and was named the leading female role of Mary Vetsera in the drama ballet "Mayerling." Known for her compassionate performance and dancing, she is loved by many French fans.
leemail@donga.com