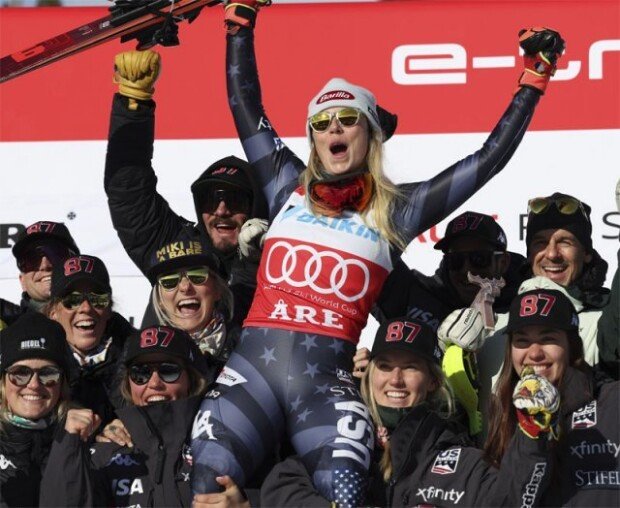 U.S. skier Mikaela Shiffrin set a new International Ski Federation (FIS) record for most wins in the Alpine skiing World Cup. Shiffrin earned a win in the women's slalom of the FIS' 2022-2023 season World Cup held in Are, Sweden on Saturday with a record of one minute and 41.77 seconds in total for the first and second races, beating Wendy Holdener of Switzerland by 0.92 seconds. It was Shiffrin's 87th win in the World Cup, following another win in giant slalom the previous day. With that, she broke the previous record for most wins in both genders held by Ingemar Stenmark of Sweden. The U.S. skier broke the female record in January this year by earning her 83rd World Cup victory and beating Lindsey Vonn's previous record.
Shiffrin, who debuted in the World Cup in March 2011, set the new record for most World Cup victories in Are, where she earned her first World Cup win in December 2012. It has been about 11 years since her first win, and it was her 246th World Cup competition. Out of 87 World Cup wins, 53 came in slalom, followed by 20 in giant slalom, five each in super-G and parallel, three in downhill, and one in combined. She recorded 13 World Cup wins so far this season, which is the most win record per season for her since 17 wins in the 2018-2019 season. The Alpine World Cup, to be held in Andorra starting on Wednesday, is the last competition of the season. It will consist of slalom, great slalom, super-G, and downhill.
"She is a perfect skier. Her skills are outstanding, but, first and foremost, she is smart. She is the only skier who can achieve 100 World Cup wins for the first time in Alpine skiing history," said Stenmark. Shiffrin will continue to compete until the 2026 Winter Olympic Games in Milan and Cortina d'Ampezzo. Reuters and other foreign media predict that she will be able to reach her 100th win in the next season.
Bo-Mi Im bom@donga.com