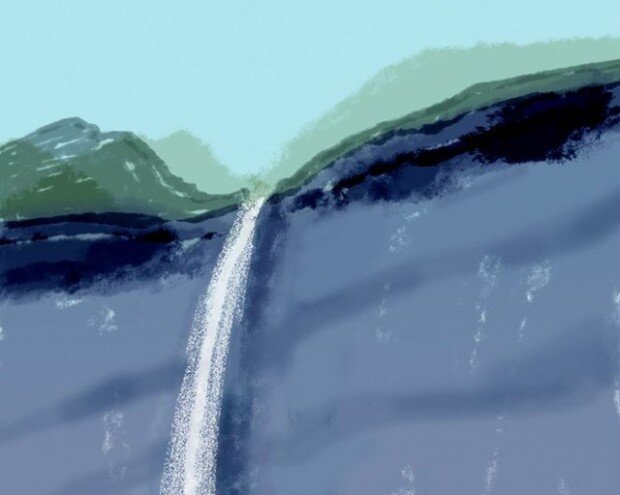 Mt. Lushan has a long history of attracting xian wannabes as the sacred place of Taoism and being loved by scholars dreaming of leading a secluded life. The mountain is in Jiangxi Province in the middle to downstream of the Yangtze River. "Gazing at the Waterfall on Mt. Lu" by Li Bo is one of the most exemplary poems written by authors and calligraphers traveling the region. He admired the magnificence of the waterfall fluttering with Mt. Xianglu burning purple-colored incense glows under the sunlight.
Less than 100 years later, Xu Ning, a poet of the Tang Dynasty, was dazzled by the waterfall. He must have been enticed by an endlessly soaring height, a wild thunder-like sound, and the silky spouts of the waterfall penetrating the green mountainous landscape. Presumably, he could not take his eyes off of the wonderful system.
Although his imagination is not comparable with Li Bo's, he excels in the delicate touches on the might of the waterfall. However, it was a shame that Su Shi left a sarcastic comment on the poem. "The heaven-born milk way sent down here by the Great Jade Emperor. Li Bo's piece in defiance of comparison. Xu Ning's absurd lines not washed away by the uncountable bubbly droplets of the waterfall." He played Xu Ning's waterfall poem. It comes across an unfamiliar occasion that Su Shi, a great poet famous for his easygoing and cool attitude, made such blunt remarks.