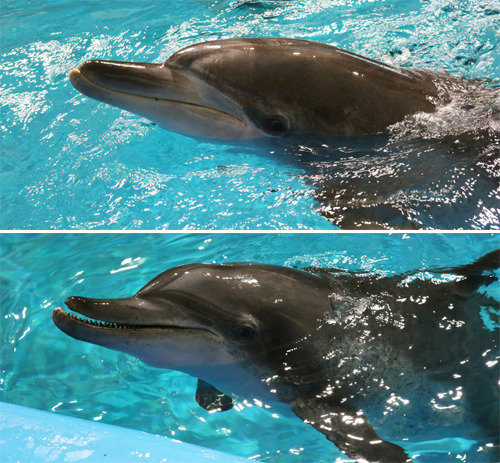 Once raised at Seoul Grand Park, two Indo-Pacific Bottlenose dolphins will soon return to their motherland; Jeju coastal waters.
After 20 years of living in the aquarium at Seoul Grand Park, the two male Indo-Pacific Bottlenose dolphins "Geumdeung" and "Daepo" will be sent back to Jeju seas around July. The announcement was made Friday by the Ministry of Maritime Affairs and Fisheries, the Seoul Metropolitan Government, and Korea Marine Environment Management Corporation.
The dolphins were captured by a fishery net near Jeju Island in 1997 and 1998, respectively. They were named after the villages (Geumdeung-ri, Daepo-ri) where they were first found. Drifting through various dolphin performance theaters around Jeju Island, they were finally transported to Seoul Grand Park in 1999 and 2002.
The recent decision came as a solution to procreate higher number of their species, which can only be found near the Jeju shores in Korea. At the current time, approximately 100 Indo-Pacific Bottlenose dolphins reside there. Estimated to be aged around 23 to 26 years old, Geumdeung and Daepo are still diagnosed as healthy enough to procreate. An average Indo-Pacific Bottlenose dolphin lives up to 30 to 35 years old.
This is not the first time to return dolphins back to their homes. For the first time in Asia, the dolphin "Jedol" was released in 2013. The ministry plans to carefully carry out training sessions for the two mammals to adapt seamlessly to wildlife, as they were raised for nearly two decades. Once they become used to their local surroundings and catch preys, the two dolphins will be transported back to the southern island in May and return to the ocean around July.
Sung-Min Park min@donga.com