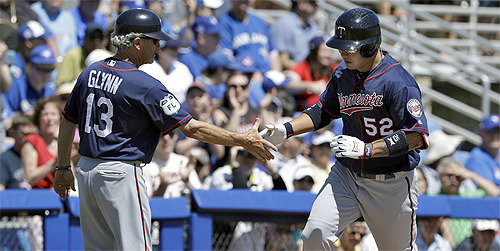 Minnesota Twins' Park Byung-ho has had a string of hits day after day. He is displaying stellar performance anew like the 2014-2015 season when he had 50 homers the South Korean baseball league. It is amazing to see how significantly a player can change over a one-year period.
Park has become the hottest player in the Minnesota Twins' spring camp. Having hit his fourth homer in exhibition games, Park has elevated his chance to join his team's 25-member roster for the season's opener.
In the exhibition game against the Toronto Blue Jays held at Florida Auto Exchange Stadium on Monday local time, Park hit a two-run finishing homerun in the top of the fifth inning when his team was tying 0-0. Having started as seventh batter in his team and first baseman, Park swung a 148-km fastball pitched by Toronto Blue Jays starting pitcher Francisco Liriano with a runner on the first base and no strikeout, and garnered a two-run homer flying way over the fence.
Park had one hit and two RBIs in two times at bat on the day, posting a batting average of 0.394, four homeruns and eight RBIs overall during the exhibition games. With an OPS (On base Plus Slugging) rate of whopping 1.280, the Korean pitcher is ranking atop in homers and hits and is tying for second in RBIs in his team.
Park had struggled in the face of powerful fastballs by Major League pitchers in his Big League debut year last year, but this year, he is swinging his bat confidently on both fastballs and changeups day after day. He swung a 134-km slider pitched by Chen Wei-Yin, a talented lefthander from Taiwan, in the game against the Miami Marlins on March 11 to hit a homer. He also hit a homer off 154-km powerful fastball pitched by Jose Urena on February 28. His first homer in an exhibition game was also hit off a fastball pitch of almost 150 kilometers per hour as well.
Park Byung-ho is benefiting significantly from his new batting style, which he simplified during the winter season to adapt himself to fastballs by Major League pitchers. He also has gained skills to select pitches and has had as many as five walks while getting eight strikeouts. "He seems to be very comfortable in the batter's box. He is performing good swings on strike pitches," said Twins manager Paul Leo Molitor.
Currently, Park is a Minor Leaguer. He was excluded from the 40-member roster of the Major League early this year, and is participating in the spring camp as an invited player. When he was just excluded from the 40-member roster of his team, the other 29 teams had a chance to recruit him. None invited him, however, and Park accepted his move to the Minor League.
However, Park is displaying outstanding performance, which is impressive enough to easily attract attention from all different teams. "Park Byung-ho has come back. He is displaying the kind of power that Minnesota has been expecting," Fox Sports North reported soon after the game. "If he continues his current strides, he will be able to take over the position of (his strongest rival) Kennys Vargas. Chances are high that Park Byung-ho will serve as a designated hitter in the season's opener."
Heon-Jae Lee uni@donga.com