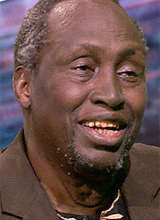 Kenyan writer Ngugi Wa Thiongo (78) has been named as the winner of the sixth Pak Kyong-ni Literature Award. The award is presented by the Toji Cultural Center, the Pak Kyong-ni Literature Award Committee, Gangwon Province, Wonju City and The Dong-A Ilbo.
"Ngugi Wa Thiongo is a writer who distinctively reveals different angles of the lives of people undergoing the process of globalization," the Toji Cultural Center and the Pak Kyong-ni Literature Award Review Committee said on Tuesday to explain the reason for selecting the writer. "He is considered to be a writer who complies with the purpose of the Pak Kyong-ni Literature Award."
"The writer deeply and fiercely examined and agonized over situations where various boundaries including the West and the Non-West, and modernity and pre-modernity overlap, while dealing with the independence war of Kenya, which became a British colony, and social issues after its independence," the review committee said, commenting on the Kenyan writer's literary work.
The Pak Kyong-ni Literature Award was instated in 2011 to honor the literary spirit and achievements made by the late novelist Pak Kyong-ni (1926-2008), the author of the epic novel "Toji." The award was open to foreign writers in 2012 to become Korea's first international literary award. The winners are Choi In-hoon, who won the honor in the first year, Ludmila Ulitskaya of Russia, Marilynne Robinson of the U.S., Bernhard Schlink of Germany, and Amos Oz of Israel.
The prize money is 100 million won (89,300 U.S. dollars). This year's Pak Kyong-ni Literature Award was sponsored by Kumho Asiana, Maronie Books, Yonsei University, and Milim Syscon. The award ceremony will take place at the Toji Cultural Center in Wonju, Gangwon Province at 4 p.m. on October 22 during the Pak Kyong-ni Literature Festival.
김지영기자 kimjy@donga.com