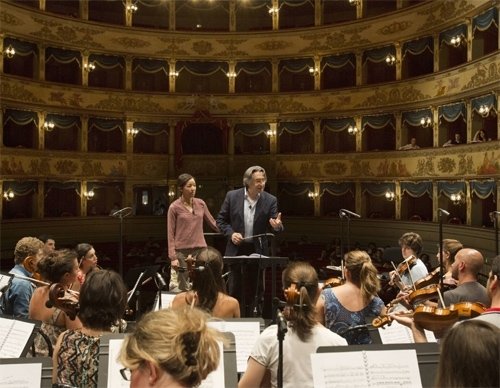 Riccardo Muti, a world prominent conductor from Italy, is opening an opera academy in Korea next month. It is the second in kind in the world and the first in Asia.
Gyeonggi Arts Center will open Riccardo Muti Opera Academy from May 22 to May 29 at Gyeonggi Arts Center and Seoul Arts Center. Muti first opened the academy in Italy in July last year.
"There are many Korean singers who are outstanding in Italian operas," Muti said. "I set up the academy to tell people all my experiences."
The academy will be classified into three programs of conducting, singing and opera coaching (piano) for music majors in Asia aged 18-32. Muti will give instructions for more than four hours a day. The music for the program is Verdi's "La Traviata."
"La Traviata is most of the times expressed in exaggeration, but that is not what it's supposed to be," the Italian conductor said. "I want to correct this through this academy."
The courses will be open to general people to allow them learn how Muti teaches and what the role of an orchestra conductor is.
"This will be a chance for young musicians to communicate with Muti closely," Gyeonggi Arts Center CEO Chung Jae-hoon said. "I'm certain that participants will have valuable experience to learn how operas are made."
Prospective applicants can submit their performance video through email (classic@ggac.or.kr) by April 22. After the first screening, final audition will take place on May 22 in participation by Muti. Application fees are 100,000 won, and the programs are free.
New musicians selected at the academy will be given chance to perform with Muti and Gyeonggi Philharmonic Orchestra the La Traviata highlights on April 29. For more information call 031-230-3331-3.
Muti will be performing Schubert Concerto No. 4 and Tchaikovsky concerto No. 5 with Gyeonggi Philharmonic Orchestra at Seoul Art Center at 8 p.m. on May 27.
김동욱 기자creating@donga.com