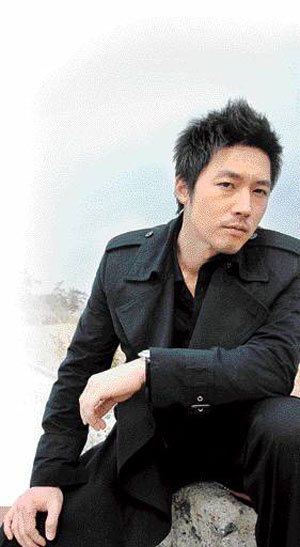 "Think of meeting an eight-year old aids patient. How would you feel? I tried to portray a doctor who considers the patient rather than the disease."
It seemed that Jang would always suit the role of a defiant teenager perfectly, but looking at him now, there were visible traces of past times.
Actor Jang Hyuk, 32, will play the main character, Min Gi-seo, on the MBC drama 'Thank You,' (Scenario: Lee Kyung-hee, Director: Lee Jae-dong, Wed, Thu, 21:55) which will air on March 21. There was obvious tension on Jang Hyuk's face when he met with reporters after the drama briefing, which was held on March 14 at Hilton Hotel in Namdaemun-gu, Seoul.
"With this being my first formal meeting in three years, I found that although I was smiling and appeared calm, my legs were shaking uncontrollably. (laughs) After being discharged from military service, when I was on my way to practice the script for the first time, I was so excited. I checked later, and it turned out that my blood pressure had actually risen. I really feel like I'm back in 1996, making my debut."
After all of the ups and downs he has experienced, Jang is resolved to do whatever it takes. In 2004, Jang, along with Song Seung-heon and Han Jae-seok, was accused of avoiding military service, and, after receiving a second physical check-up, he entered the service in November of that year; serving in Hwacheon county, Gangwon province. This is his first piece after being discharged from military service in November of last year.
"A couple of days ago, as I was returning from filming at the Uijeongbu set, and I saw soldiers receiving winter training. I suddenly realized that the place I am in right now is particularly valuable. I too took part in winter training… after serving in the military I learned to value everyday life. Although I did wrong in the past, a thought occurred to me. It is said that when former U.S. President Ronald Reagan was a presidential candidate and was asked, 'Aren't you too old?' by his opponent. He answered, 'I am not too old, but rather I have more experience and the correct attitude to put it to use.' I think the attitude that one has, and how one starts over again, is most important. "
In this drama, Jang plays the role of Min Gi-seo, a doctor who is extremely talented, but arrogant and conceited. After Gi-seo's girlfriend dies, he leaves his life behind and goes to a remote island where he meets Young-shin (Gong Hyo-jin), an unmarried mother of an eight-year aids victim. As they get to know each other, their relationship gradually warms up.
"I want to delicately express a man who is transformed by love. I am getting older too. 'Thank You' is not a medical drama, but a heart-warming story for adults. I tried to create a heart-warming feeling for viewers. Many people think that doctors have to be cold and composed. When I was preparing to act as Gi-seo, I put a lot of thought into whether it is more important to put the person first or if it is right to coolly observe the disease first. It was a process in which I, myself, discovered the true meaning of heart-warming ."
This drama is receiving more attention because it was written by scenario writer Lee Kyung-hee, who wrote the scenarios for dramas such as 'Sangdoo, Let's Go To School' (KBS, 2003) 'I'm Sorry, I Love You' (KBS, 2004), and 'This Killing Love' (KBS•2005).
"The movie 'Christmas In August' leaves you full of suggestions. In truth, there is no Christmas 'In August'. Christmas is in December. I think the movie was heart-warming because it dealt with the issues of hope and miracles. This drama deals with the disease aids, but within that, there will also be a story of hope."
zozo@donga.com