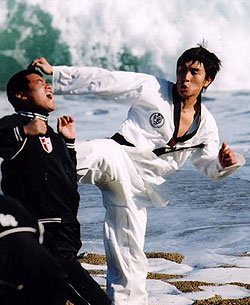 Manse High School's "ruling fist" Yong-gaek (Kim Dong-wan) and his posse. One day, after an altercation on a crowded bus, the troublemakers beat up the members of the school's taekwondo team, once the pride of Manse High but since sunken in ignominy as a third-rate club. The members end up in the hospital, while Yong-gaek and his pals are thrown in jail. The only choices offered to the scalawag group are either to leave the school or to join the taekwondo team.
"Spin Kick" is a youth-oriented sports movie about taekwondo. Its themes are the favorite fare of sports comics like "Slam Dunk" and "H2": the dreams of youth, the overcoming of challenges, and the fight for preeminence. The cast includes such new-generation stars as Kim Dong-wan of the singing group Shinhwa and Hyeon Bin of MBC's sitcom "Nonstop 4," but unlike "Temptations of a Wolf" and "He was Cool," both of which open on the same day, it lacks a strong melodramatic flair. Although the movie features a "ruling fist" character like its opening-day rivals, Yong-gaek is not a "prince" admired by the female students but rather a "lowlife" who steals from school vending machines.
The focus of the film is the triumphant overturning of a third-rate life on the margins. Images of a third-rate existence provide the through-line of the film, from the small-time malefactors loitering at school after hours to the general disdain for taekwondo despite its status as a national sport, and the new master of the local taekwondo training hall, Chung-geun (Kim Young-ho), who is forced to fill the shoes of his illustrious national-athlete predecessor.
"Spin Kick" invites the audience to laugh through the story of protagonist Yong-gaek, alongside those of taekwondo team member Min-gyu (Hyeon Bin), who harbors vengeance against the coach who abandoned his team, devoted boyfriend Jeong-dae (Kim Tae-hyeon), who must win for the sake of his lady love, and perpetual substitute Seong-wan (Jeon Jae-hyeong), who is better at mopping than at competing.
Although the premise—which follows the ragtag group from its initiation into the taekwondo team to victory at the national competition just a few months later—is a tad cartoonish, the film shines in its realistic action and the vitality of its cast. Kim Dong-wan delivers a stellar performance, and Kim Young-ho appears in a rare role that suits him well. The film is the feature-length debut of director Nam Sang-guk, formerly part of the directorial team of "The Blue Door" and "La Vie en Rose." Opens July 23. Rated for audiences 12 and over.
Gab-Sik Kim dunanworld@donga.com