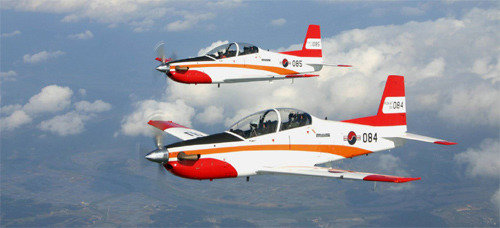 South Korea has made a deal to export its aircrafts to Africa for the first time. It is a result of constant efforts by the government and businesses to woo Senegal President, who visited Korea last year.
Korea Aerospace Industries (KAI) announced on Tuesday that it has concluded a deal to supply four KT-1S trainer jets to Senegal air force. The KT-1S model is a remodeled version of the basic trainer KT-1, adding intruder features to cater to the needs of Senegal. The deal would also be KAI's first success to export finished aircrafts this year.
Being Korea's sole manufacturer of finished air planes, KAI has sold a total of 137 planes including supersonic jets T-50 to Asia (Indonesia, the Philippines, Thailand), the Middle East (Iraq), Europe (Turkey), and South America (Peru), but Senegal will be the first African country to buy its products. The largest Korean aircraft maker, said that "the deal is very meaningful in that we will be able to lay a foundation in the growing African market," and that they will "push to export KT-1 jets to Rwanda." The KT-1 models were first sold to Indonesia in 2001 and now a total of 81 were bought from abroad including Senegal.
Senegal President Macky Sall had visited Korea for a summit with President Park Geun-hye in June last year. During the summit, President Park stressed that Korea should transfer its development know-how to Senegal and Korean businesses should enter the Senegal market. The fruits are now born with aggressive follow-up sales efforts by the government and KAI together.
김성규기자 sunggyu@donga.com