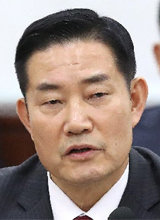 South Korean Minister of National Defense Shin Won-sik said North Korea is expected to launch its military reconnaissance satellite, whose launch failed twice before, by the end of this month. As the South Korean military also plans to launch its first reconnaissance satellite developed with the country's technology on November 30, some predict that the two countries may launch reconnaissance satellites on the same day.
"The North is expected to attempt its third launch for a reconnaissance satellite as early as within a week or by November 30 at the latest," said Minister Shin during an interview with KBS on Sunday. "Both South Korea and the U.S. are closely monitoring movements in North Korea. The country is ready to launch a reconnaissance satellite in about a week. A proper engine is needed to launch a reconnaissance satellite, and the North seems to have resolved almost all issues with Russia's help." North Korea had two failed attempts for reconnaissance satellite test launches in May and August, the causes of which are suspected to be faults with its engine. The issue might have been resolved through technology trading between North Korea and Russia.
On November 30, ' Falcon 9,' a launch vehicle developed by SpaceX of Tesla CEO Elon Musk, is scheduled to launch South Korea's first military reconnaissance satellite. Some suggest that North Korea may launch its reconnaissance satellite on the same date to claim that its satellite will also be launched for the peaceful utilization of space as South Korea.
Hyo-Ju Son hjson@donga.com