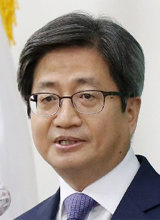 Former Chief Justice Kim Myeong-su of Korea's Supreme Court, who retired on September 24, was found to have stubbornly maintained his progressive stance on the court's key en banc decisions during his tenure. Notably, he never issued a dissenting opinion throughout his six years in office. 

The Dong-A Ilbo analyzed 325 en banc case reports from March 2006 to July 2023, covering the tenures of former Chief Justices Lee Yong-hoon, Yang Seung-tae, and Kim Myeong-su. The analysis was conducted in collaboration with Professor Han Kyu-seop and his research team from Seoul National University's communication studies department. Professor Han's political inclination index, based on the U.S. Federal Supreme Court analysis methodology, produces negative figures for liberals and positive figures for conservatives. The research involved 50 Justices, including the three Chief Justices. 

Former Chief Justice Kim held a -0.268 inclination figure, ranking 17th among the total 50 in terms of progressive inclinations. Chief Justices Lee (25th with 0.063) and Yang (34th with 0.257) were comparatively less progressive than Kim. Justices recommended by Kim for nomination had an average index figure of -0.236, indicating strong liberal leanings. Those supported by Chief Justices Lee and Yang had average index figures of 0.08 and 0.231, respectively. Furthermore, Kim's views aligned with Chief Justices Noh Jeong-hee and Kim Sang-hwan, who are associated with progressive judges' research groups, with over an 80% match.
zion37@donga.com