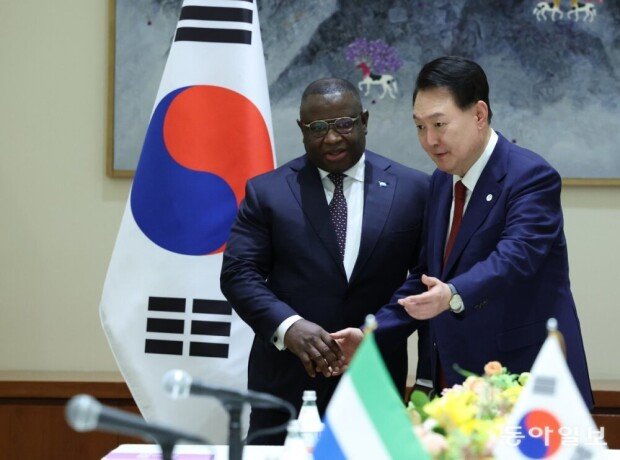 The Korean Presidential Office announced on September 22 that President Yoon Suk Yeol held 41 consecutive bilateral meetings in New York from September 18 to 22 to promote Busan as the 2030 World Expo host. President Yoon assured the ruling party leader Kim Ki-Hyun that he would persist despite concerns about his health, as he believes his efforts will lead to the nation's economic progress. He will return on the 23rd after delivering his tailored promotional pitch to each nation.
After his U.N. General Assembly keynote speech on September 20, President Yoon held meetings with 13 leaders of states between the 21st and 22nd at Korea's Permanent Mission to the United Nations, seeking their support for Busan. Aside from his speech at the Digital Vision Forum on the 21st at New York University, President Yoon remained at the Permanent Mission's office whole day for discussions with these leaders. An official from the Presidential Office stated that President Yoon, making the most of his participation in the U.N. General Assembly, conducted bilateral meetings with 41 heads of state, including two national coalitions (Caribbean Community (CARICOM), Pacific Island Nations), and actively engaged in two luncheons and dinners with foreign leaders for multilateral talks.
President Yoon met with President Guillermo Lasso of Ecuador, seeking support for Korea Expressway Corporation's involvement in the highway construction project linking three major Ecuadorian cities. Additionally, he extended a luncheon invitation to President Santiago Pena of Paraguay and his wife, recognizing Paraguay's significance as a gateway to the South American market.
During his meetings, President Yoon proposed closer national cooperation with President Julius Maada Bio of Sierra Leone due to their upcoming roles as non-permanent U.N. Security Council members from 2024. With President Nataša Pirc Musar of Slovenia, he sought support for Korean companies in Slovenia's nuclear power and harbor and logistics projects, building on their May-signed MoU between the city of Busan and the city of Koper, a key hub for making inroads into Central and Eastern Europe. At a dinner with CARICOM leaders, he called for increased regional collaboration and backing for Busan's 2030 World Expo bid.
Joo-Young Jeon aimhigh@donga.com