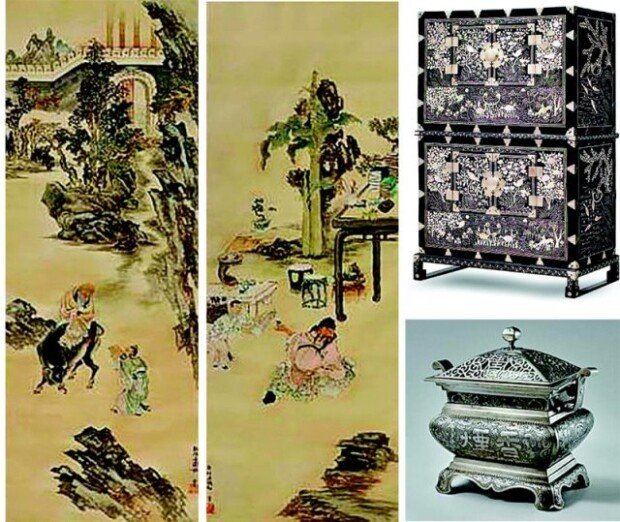 Five gifts from Gojong of the Korean Empire to Russian Emperor Nicholas II for the Russian emperor's coronation ceremony will be revealed for the first time in 127 years at The Moscow Kremlin in Moscow. Gojong took refuge at the Russian legation in February 1896 and dispatched a delegation with Min Young-hwan as a minister plenipotentiary to the coronation ceremony of Nicholas II, along with 17 gifts.
The relics will be exhibited at The Moscow Kremlin's special exhibition titled "Korea and the Armoury Chamber. The History of the Coronation Gift to the Last Emperor," which will be held from Friday to April 19. Among the relics to be revealed, the two-section chest 'Nong' is believed to have been crafted by the best mother-of-pearl craftsman during the time upon Gojong's order. It features ten symbols of longevity in mother-of-pearl on the bottom of the chest to wish for the Russian emperor's good health and long life. The 'cut-off' mother-of-pearl technique, thinly sliced and glued mother-of-pearl became popular in Japan in 1920 when the fretsaw was introduced. The chest was made with the technique 30 years before Japan, which makes it highly valuable in the history of the craft. The Overseas Korean Culture Heritage Foundation supported restoration.
In addition, two paintings by genius artist Jang Seung-eop who hasn't even been reported in the academic community will be revealed for the first time. The two pieces titled "Lao-tzi Went Out of Hangu Pass" and "Drunken Li Bo" are part of a series of four paintings and are large pieces with a width of 65 centimeters and a height of 174.3 centimeters. The name of the country, 'Joseon,' is added in front of the painter's signature, which indicates that the paintings were made as diplomatic gifts. There are tales that Jang escaped the palace several times to drink even though he was commissioned by Gojong.
Two incense burners engraved with Chinese letters meaning truth, longevity, and eternal treasure will also be exhibited. The burners are each shaped square and round, which symbolizes a round sky and square earth in line with the coronation ceremony. Carefully punched pattern showoffs complex and delicate structure that is rare in other craft items.
"We will support the restoration of important relics outside South Korea to promote the value of our cultural heritage," said a member of the Overseas Korean Culture Heritage Foundation.
always99@donga.com