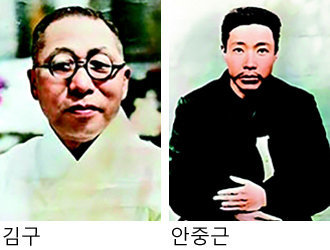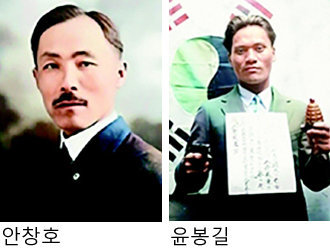 The Ministry of Patriots and Veteran Affairs will be transmitting videos of 15 independent activists whose black-and-white photos have been restored to color images in celebration of the 104th March 1 Independence Movement on the media canvas of the National Museum of Korean Contemporary History located at the Gwanghwamun Square in Seoul.
The images will be transmitted until April 11, which celebrates the establishment of the Provisional Government of the Republic of Korea. The independent activists are Kim Gu, Kim Jwa-jin, Earnest Thomas Bethell of the U.K., Song Jinwoo, Ahn Jung-gun, Ahn Chang-ho, Yu Gwan-soon, Yoon Bong-gil, Yoon Dong-ju, Rhee Syng-man, Lee Hoe-young, Cho So-ang, Choi Jae-hyeong, Han Yong-woon and Homer Hulbert of the U.S.
The videos feature the life and achievements of the activists, along with famous quotes, including "My wish is the complete independence of my country Korea" by Kim Gu" and "A man never returns home alive before achieving his goal" by Yoon Bong-gil.
According to the Ministry, students at the Software Department and AI Department of Sungkyunkwan University participated in the project, using AI facial restoration technologies and programs to restore black and white photos to colored photos. "We hope this will be a reminder that the blood and tears of our patriots brought us where we are today as a free and prosperous country," said Minister Park Min-sik. The ministry will continue restoring photos of the independent activists, presenting them in photo frames to descendants, and creating digital videos.
Sang-Ho Yun ysh1005@donga.com