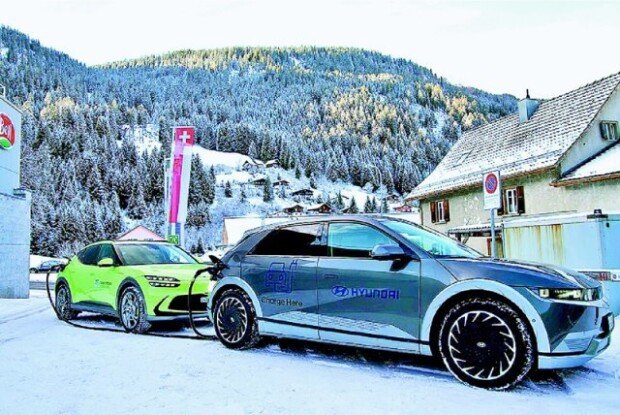 Hyundai Motor Group provides a fleet of 58 vehicles wrapped with Busan's World Expo 2030 logo for Korean business representatives participating in the World Economic Forum (WEF) to promote Busan's bid for World Expo 2030.
Hyundai Motor Group announced on Monday that it would operate 45 eco-friendly models, including 18 Genesis Electrified G80, eight GV60, four Electrified GV70, and 15 Hyundai Santa Fe plug-in hybrid vehicles during the forum held from Jan. 16 to 20. It will also operate 13 cars using internal combustion engines. In line with Busan's World Expo vision, "transforming our world, navigating towards a better future," it focuses on providing eco-friendly cars.
The wrapped vehicles will also function as moving billboards to promote Busan as the host city for the World Expo 2030 by driving around the city. Hyundai Motor Group is also displaying the Genesis X concept car in a transparent container with Busan's World Expo 2030 logo at the entrance of the event hall that is hosting 'Korea Night' during the World Economic Forum.
In addition, Hyundai Motor Group secured an electric vehicle (EV) charging base near the forum venues in advance. The IONIQ 5 will be deployed at major events to enable emergency vehicle charging using Vehicle To Load (V2L).
Gun-Huk Lee gun@donga.com