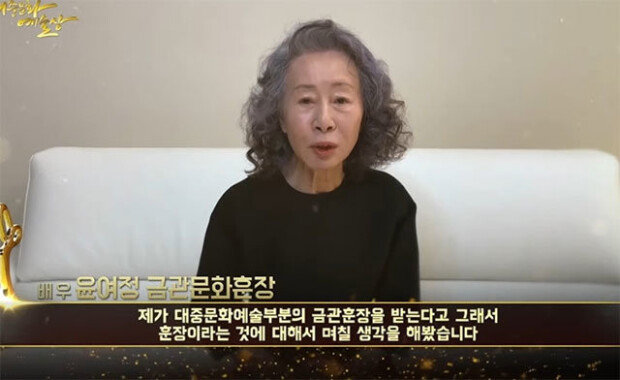 Yun Yeo-jeong, the first South Korean to be awarded the Best Supporting Actress at the Academy Awards for film "Minari," has become the first pop culture contributor who won the Golden Order of Cultural Merit.
The 2021 Republic of Korea Popular Culture and Arts Awards by the Ministry of Culture, Sports and Tourism and the Korea Creative Content Agency was held on Thursday to give Yun the Golden Order of Cultural Merit. Up until last year, the Silver Order of Cultural Merit was the highest decoration in pop culture. The Golden Order of Cultural Merit was first awarded this year.
"We decided to present the Golden Order of Cultural Merit to Yun in discussions with the Ministry of Public Administration and Security considering that her winning of globally renowned awards this year has great significance," said a ministry official. "The veteran actress contributed to drawing more attention to South Korean pop content, which had a positive influence on the nation's pop culture industries overall." The ministry official added that Yun's achievement has not only opened younger actors' paths to overseas markets but also improved national image and brand value.
Yun, a public recruit by TBC TV in 1966, starred in many films including last year's "Lucky Chansil," "The Bacchus Lady" and "The Boomerang Family" while standing out in dramas and entertainment shows. Her role as a grandmother in film "Minari" left an impressive mark, allowing her to sweep all awards at home and abroad.
The Popular Culture and Arts Awards are given by the government to artists who deserve to get credit for their contributions to pop culture based on their domestic and overseas activities, social contributions and social awareness. This year's awards were presented to a total of 29 actors, singers, comedians, voice actors, screenwriters and performers with the Order of Cultural Merits to six, the Presidential Citation to seven, the Prime Minister Citation to seven and the Citation of the Minister of Culture, Sports and Tourism.
pep@donga.com