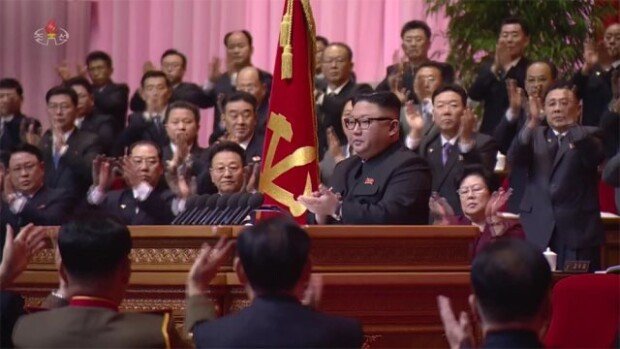 The Korean Central News Agency reported Monday that North Korean leader Kim Jong Un declared his commitment to promoting the safety of his country and people and safeguarding the peaceful environment for building a socialist country by taking the North's defense capacity to a new height on Sunday, the second day of the 8th Congress of the North Korean Workers' Party. Experts say Kim Jong Un stressed the importance of beefing up strategic weapons to prop up the country's status as nuclear state in the same vein with his bombasts from last year to "unveil a new strategic weapon" and "beef up nuclear deterrence for self-defense."
It remains unknown what Kim said in detail about Pyongyang's foreign policies against Seoul and Washington and the nuclear and military tack of North Korea. In the opening speech on Saturday, Kim indirectly emphasized his will to develop strategic weapons, talking of a "strong collateral that can safeguard the destiny of his country and people year after year." During the military inspection in October celebrating the 75th anniversary of the foundation of the Workers' Party, the North disclosed a new inter-continental ballistic missile capable of striking mainland U.S.
Though Kim is sticking to ambiguous expressions and opting out of mentioning nuclear weapons directly, Seoul is of a view that the North Korean leader can deliver a message to the Joe Biden administration that the regime may continue to develop strategic weapons without undergoing denuclearization if Washington doesn't stop pursuing hostile policies against Pyongyang.
Oh-Hyuk Kwon hyuk@donga.com