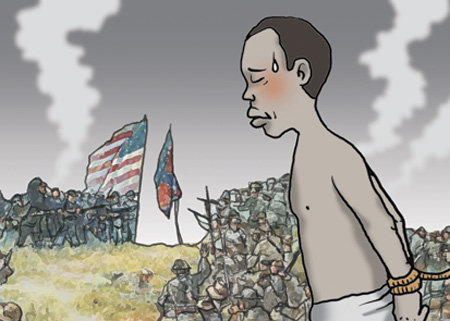 I was surprised by three things when I first visited Gettysburg, the battleground of the American Civil War, in 2019. First of all, the battlefield was much wider than I had thought. Secondly, it was even more surprising to see the open grasslands and hills preserved so well as if they had been kept frozen after the war. What surprised me lastly was the perfect reproduction of the battlefield. A whole day was not enough to retrace the combats that lasted three days, the troops stationed there, and every event occurred at that very site. Stone posts were set up at the exact places events took place and the museum there provided a detailed floor plan and description of events.
Despite the vivid reproduction of the battlefield, it was difficult to understand why the American Civil War had broken out in the first place. Although the conflict between the north and the south over slavery is known to be the main cause of the Civil War, the abolitionist movement was not solely based on pure humanitarian cause. It was a mixture of multiple factors, including pure philanthropy, humanitarianism, nationalism, regionalism, collective egoism, individual economic interests, political conflicts between political parties, and conflicts over industrialization.
Abolitionists tried to convince people that slavery would ultimately cause damage to whites and the entire country. Abraham Lincoln argued that slavery would eventually threaten the human rights of poor whites by tarnishing the perception of basic human rights. James Madison, who served as the president of the U.S. fifty years earlier than Lincoln, said slavery corrupted the minds of whites and destroyed black and white families. He even went on to say that slavery tarnishes human nature, thereby leading to animal cruelty.
Slavery was a bloody shadow cast over the future of fledgling countries blessed with vast lands and rich resources. "I hope we destroy slavery so that we can save ourselves from disgrace and save our descendants from idiocy that inevitably exists in a county filled with slaves," said Madison.
Madison, however, did not free his own slaves. Politicians incited people and promoted regional conflicts for the interests of themselves and their regions. Eventually, the war broke out and Americans learned the lesson of blood. But as time has gone by, people have forgotten the lesson again. Would keeping it in mind for 100 years be considered long enough time?