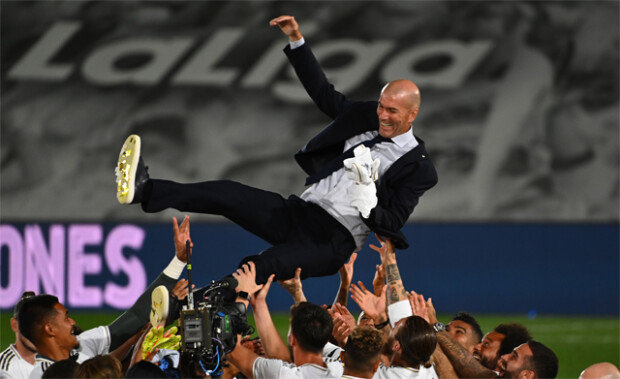 "I can't describe how it feels. It's amazing," said Real Madrid manager Zinedine Zidane after winning the La Liga title on Thursday. Zidane, who was tossed by players after the game, has placed weight on the La Liga win by saying it is better than becoming the Champions League champion.
Real Madrid lifted the winning trophy after beating Villarreal 2:1 at the Alfredo di Stefano Stadium in their training ground. With Thursday's victory, Real widened the gap with second-place FC Barcelona by seven points with 26 wins, eight draws, and three losses, securing the La Liga title with one round to go.
Real has reclaimed the La Liga title in three seasons after it last won the 2016-17 season. In particular, Real has won all 10 games after the league resumed after the COVID-19 shutdown.
The European media attributed Real's win to the leadership of Zinedine Zidane. "Zinedine Zidane is the only Real Madrid manager to win La Liga since 2011-12," BBC wrote, praising Zidane.
hun@donga.com