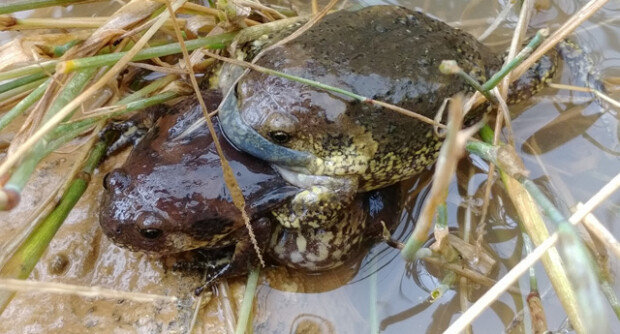 A knot of toads, which is a protected species in Korea, have been discovered at the Yeouido Saetgang Eco Park in Seoul.
It is unusual to see a knot of toads, which is classified as least concern (LC) species by the Ministry of Environment, in a city, according to the Hangang Project Headquarters under the Seoul Metropolitan Government on Tuesday. The hundreds and thousands of eggs discovered in May this year appear to have hatched into tadpoles and developed into adult toads.
The toads were discovered through ecological monitoring by the Social Cooperative Hangang, which runs and maintains the Yeouisaetgang River on consignment. The cooperative helps enhance ecosystem diversity by reducing human intervention and blocking public access during a sensitive period.
Natural monument eagle owls, kestrels, and mandarin ducks have recently been discovered at the Yeouisaetgang River as well. Narrow-mouthed toads, a Class ll endangered species, are expected to be discovered during a rainy season since they succeeded in breeding last summer.
"The Seoul Metropolitan Government will continue to do its best in restoring the ecosystem in collaboration with civic groups that have in-depth expertise in the field," said Kim In-sook, the director of Park at the Hangang Project Headquarters.
whatsup@donga.com