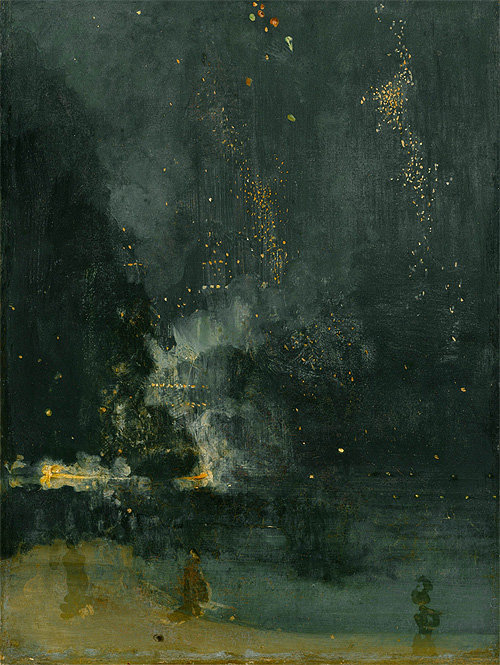 It takes much time and effort to earn fame but it can disappear very quickly. James Abbott McNeill Whistler, an American artist in the 19thcentury, filed a lawsuit against a famous critic to regain his fame. What had happened to him?
The painting features the leading character of the most well-known trial between an artist and a critic. Whistler, an American who worked in Paris and London, submitted a painting to a gallery in London in 1877. It was part of his series of "Nocturne," which he had worked on for several years. At a glance, it may appear as an abstract painting but actually it was a landscape painting of fireworks at the Cremorne Gardens, a celebrated pleasure resort in London. Spectators are painted like ghosts, and the firecrackers that spread across the foggy night sky are falling towards the river in the form of yellow flares.
Art critic John Ruskin criticized the painting, saying that it was like "throwing a bucket of paint to the public," calling him blazon-faced for submitting an unfinished painting. No one would dare to buy a painting so severely criticized by a famous critic. Whistler could not bear the criticism of the person who called his painting "rubbish" four years ago. He sued the critic for libel. Ruskin's attorney accused the artist as immoral questioning whether it was fair to obtain 200 guinea in just two days, while Whistler said that it was the price of value for the knowledge accumulated over a lifetime."
Eventually Whistler won the argument as well as in court. But he received only 1 farthing (1 quarter of a penny) in compensation for damage and he eventually went bankrupt paying for the trial. It was entirely his loss financially, but he was willing to give all he had to protect his fame and pride. Whistler published the details of his lawsuit in a book titled "The Gentle Art of Making Enemies" in 1890 and paid revenge to Ruskin.
tjdrud0306@donga.com