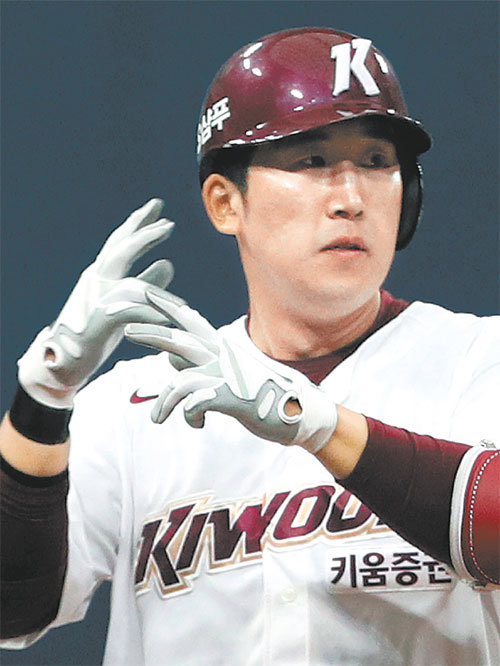 "Having developed the confidence that I can play again tomorrow is my biggest source of energy." This is what Jang Young-seok (29), an infielder of the Kiwoom Heroes, had to say shyly, when asked what he feels like to "stay put as third baseman" in all different games. Jang has emerged as a key member of the team after Kim Min-sung (31) moved to the LG Twines, after staying put at the "hot corner" position of the third baseman when the Heroes belonged to Nexen (2010 – 2018), ahead of the opening of the new season.
Even on days he does not play as the third baseman, he does not stay out of games. He serves as the first baseman when Park Byung-ho cannot play defense to serve as a designated batter and thus helps Park maintain his stamina, or he himself takes the batter's box a designated batter. Jang has skipped only two games so far this season.
Until the past season, Jang only managed to post an overall batting average of 0.225. As he has become a key player of his team now, he has embraced changes as well. He has seen his batting significantly improve, and has even posted a batting average in excess of 0.300 (A batting average of 0.317 as of Thursday). In the category of runs, he also performs robustly and has had timely hits rather losing confidence, even when his team is close securing a run. As a result, he is tying for first in overall runs (34 runs) with leading players such as Kim Jae-hwan of the Doosan Bears in the KBO League.
This is happening for the first time in 10 years since Jang debuted in the KBO league as the third alternative player in the 1st round of the second screening phase in 2009, moving to and from the primary and second leagues frequently for a long time. Many players successfully emerged to become key players in the League by seizing opportunities offered by his team, which focused on nurturing players, but he found no position available for him. He even attempted to transform into a pitcher in 2011 by revisiting his experience from high school years in an attempt to avoid rivals including Kang Jung-ho of Pittsburgh Pirates, and Kim Min-sung of LG, but failed to achieve this dream due to unstable pitch control (giving 2 hits and 4 walks during two innings overall, and having an ERA of 13.50)
"I would only applaud and cheer for my teammates (who became successful). As I experienced this, I was able to broaden my perspective from being selfish and narrow-minded, and started to think about 'what my team really needs' since one point at time in the past."
After being discharged from compulsory military service around 2015, Jang was able to display stable defense capability by banking on my strong shoulder (powerful and accurate throwing), to impress the coaching staff at last. He also gradually increased his participation in games as a "dependable backup player" that his team needed. Thinking that he might be given an important position ahead of the current season, he worked hard in batting exercise after the end of the previous season. In addition, he and his friend pooled wisdom and decided to try a "special bat" that Major League players reportedly prefer to use these days to enjoy good performance in batting.
Jang uses an "asymmetrical" bat, whose knob is slant by about 30 degrees, unlike the ordinary bat whose knob is flat. This method was devised to enable batters to perform quality hitting by improving the grip. Mookie Betts (27), who became the MVP in the American League of the Big League, is using a modified style bat whose knob is ellipse-shaped. "I think my batting quality has improved because I feel like I have stronger grip," Jang said. "It was a good decision that I changed my bat."
Jang's primary goal for this season is to participate in all of the remaining games. He has chosen not to seek numbers and records including batting average and runs. The reason he cites is being a "latecomer."
"Since I have been given this opportunity at the age of 30, numbers are less important to me. When I will let things go, and will only try my best, good performance and numbers will naturally follow," Jang said.
Still, I wish to continuously display good performance whenever my team need in every single game."
yesbro@donga.com