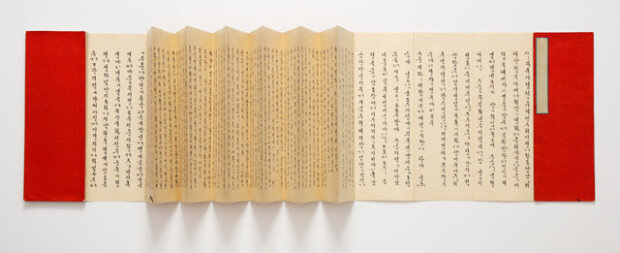 "Spring sunshine is quiet and bright. Flowers blossom on silky hills and willows neatly bloom and grow."
Princess Deokon (1822-1844)'s biography Jagyeongjeongi written in Korean vividly describes spring in the palace in the late Joseon Dynasty. Princess Deokon translated her father King Seonjo's biography into Korean.
The National Hangeul Museum opened Thursday a special exhibition "Hangeul Writings from Three Generations of Princess Deokon Family." More than 200 pieces of Korean writing by princess Deokon, her adopted son Yoon Yong-gu (1853-1939), her grandchild Yoon Baek-yeong (1888-1986), her sister princess Bokon (1818-1832) and her brother prince Hyomyeong (1809-1830) are displayed.
It is notable that a note that princess Bokon wrote at the age of 11 has been released to the public for the first time, which is the only hand-written piece of Bokon left. There is also a translated version of poem collection "Hakseokjib," which was gifted to Deokon and Bokon by prince Hyomyeong.
The exhibition will run through August 18 and the admission is free.
Won-Mo Yu onemore@donga.com