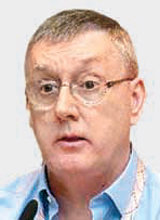 John Suffolk, Huawei's global cybersecurity and privacy officer, held a meeting for Korean press on Wednesday at the Huawei headquarters in Shenzhen, China, and told the attendees that Huawei is "one of the most strictly inspected" companies in the world.
Last month, the Chinese multinational telecommunications mogul, filed a suit with the U.S. Federal Court last month claiming that the ban on the sales of its products and services imposed by U.S. government offices over alleged security concerns is unconstitutional. Huawei argues that the security concerns cited by the U.S. government are not substantiated, and it is unjust to deny American consumers access to the products of the Chinese company.
At Huawei's Global Analyst Summit 2019, which was held in Shenzhen on Tuesday, Huawei's rotating CEO Ken Hu cited "trust" as top priority among the core values that his company pursues. The recent developments such as the establishment of a new body called Cyber Security Transparency Center indicate an all-out effort on the part of the Chinese colossus to address the security crisis triggered by the U.S.
As the chief security officer responsible for the company's products and service, Mr. Suffolk is entitled to vetoing the release of new products should there be security issues. "Other global players such as Ericsson or Nokia are engaged in technological cooperation with Chinese companies," he said. "While the U.S. calls our products a threat, they are using Chinese technologies."
Regarding security issues to unfold in the 5G era, Mr. Suffolk said that 5G also won't be immune to hackers either, adding that the company will acquire all necessary means to reassure the world over security concerns such as CC certification and PCI certification.
Do-Young Kwak now@donga.com