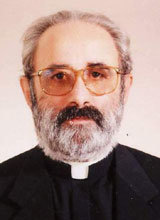 Catholic priest Chi Chong-hwan, or Didier t`Serstevens, who made Imsil in North Jeolla Province the birthplace of Korean cheese, passed away on Saturday at the age of 88. The Roman Catholic Diocese of Jeonju announced that the priest died of a chronic disease around 10 a.m. last Saturday while in treatment at a hospital in Jeonju.
The Belgium-born came to Korea to serve as provost at Imsil Catholic Church one year after his ordination in 1958 in his home country. He tried to come up with how to feed poor farmers by raising two goats to produce cheese but to no avail.
Returning to Belgium, he learned how to make cheese from a cheese master and jotted down all the know-how. Later, he succeeded in producing Imsil cheese, which is characterized by even flavor and scent. He went to Seoul to promote the product at hotels and restaurants with many foreigner visitors and open up sales routes.
He raised dairy cattle to increase production as a growing demand exceeded goat-driven quantities. That was when Imsil became the mecca of the Korean cheese industry. The priest shared all the know-how and handed over his authority to residents without any cost.
Back in the early 1970, he suffered multiple sclerosis to lose functions in the lower body. Even after ending up with a pair of crutches and in a wheelchair, he visited welfare facilities in Jeonju and Wanju to take care of the marginalized.
In recognition of his contributions, Chi Chong-hwan was awarded Korean citizenship in 2016 by the Ministry of Justice. Imsil Governor Sim Min said on Sunday that he would honor his spirits to work to promote Imsil cheese across the globe.
minpress@donga.com