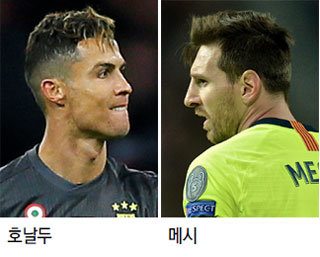 In the first leg of the 2018-2019 UEFA Champions League (UCL) quarter-final, Cristiano Ronaldo of Juventus found an opening header against Ajax in Amsterdam. While the match was tied 1-1, the Portuguese renewed his own record as best UCL scorer to 125 (tournament goals tallied). Ronaldo, who failed to appear in the last three matches in Serie A after getting injured in a Euro 2020 qualifier against Serbia on March 26, found the net in his return match and scored his fifth goal in the UCL this season.
It is drawing attention whether Ronaldo, who is three goals behind Lionel Messi, the current top scorer of the UCL, will catch up his Argentine archrival in goal competition. Ronaldo, who won the UCL best scorer title for six consecutive years, led his team Real Madrid to win three UCL championship trophies in a row, but the Spanish club has been eliminated on the octo-final stage this time after having sent him to Juventus last year.
Messi's Barcelona, on the other hand, have won their first game on UCL quarter-final stage against the Manchester United by 1-0 thanks to an own goal on the part of the English club. Playing full-time, the Argentine made due contributions to the decider but failed to chalk up any offensive point.
Since 2012-2013 season, Messi has not been able to score goals on UCL quarter-final stage for six years, and Barcelona had been eliminated on quarter-final stage for the third consecutive year with their main scorer unable to find the net. In a total amount of scores under their club, Messi has scored 606 goals in 710 games, exceeding the records of Ronaldo (598 goals in 800 games), but the Argentine lags 17 goals behind Ronaldo in UCL scoring competition.
Seung-Kun Lee why@donga.com