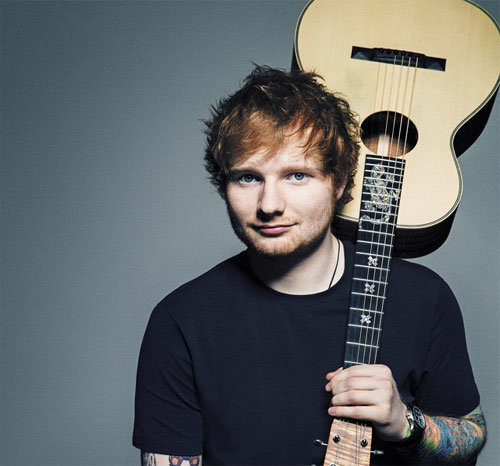 South Korean fans of pop music can expect a "super week" later this month as superstars of various genres are set to visit the country, all for the second time, to meet with the audience. These artists' performances will be also bigger in scale than the previous time.
English singer-songwriter Ed Sheeran is the first to open the grand week. The 28-year-old popstar's fourth concert in South Korea will be held on Apr. 21, at an outdoor stage which is known to host a number of large-scale music festivals every summer including annual Incheon Pentaport Rock Festivals.
Since his debut in 2011, Sheeran has become a big name with his songs such as "Shape of You" and "Thinking Out Loud," breaking records in major markets. Over 150 million copies of his albums have been sold, and his music has nearly 1 billion accumulated views on digital music service Spotify.
Still, his upcoming performance will be far from something that alludes to the performer's moneybags. There will be no fireworks or backing dancers, and an acoustic guitar will be the only thing accompanying Sheeran on the stage. Yet, he will make sure his musical magic does not get lost in any way, by using a loop station that allows him to add impromptu layers to the song. Sheeran's concert will be held at 6:00 p.m. on Apr. 21 at the Pentaport Park in Incheon.
On Apr. 26, German band "Kraftwerk" will meet with the South Korean fans for the first time in six years. In contrast to Sheeran who is armed only with a guitar, the so-called pioneers of electronic music will deliver a 3D concert where the audience can enjoy spectacular three-dimensional graphics on the screen with 3D glasses. Electronic sounds coming out of stereo speakers surrounding the hall will also delight their fans. Though the oldest current member is 73 years old and the youngest is 50, their performance, scheduled to be held at 8:00 p.m. on Apr. 26 at the Olympic Hall of the Olympic Park in Seoul, will be nothing but futuristic.
In addition, Australian singer-songwriter Troye Sivan will perform for the South Korean fans for the first time in two years. Sivan, who had revealed his sexual orientation, is known to amuse his fans around the world with his music embracing electronics and pop, as well as sensual dance moves and videos which remind one of American popstar Madonna. While Sivan's outdoor performance held in Icheon, Gyeonggi Province two years ago was small in scale and short in length, the upcoming stage will be a solo concert where he will perform tracks of his second album "Bloom" well-received last year. Sivan's concert is set to be held at 7:00 p.m. on Apr. 27 at the Olympic Gymnastics Arena in Seoul.
imi@donga.com