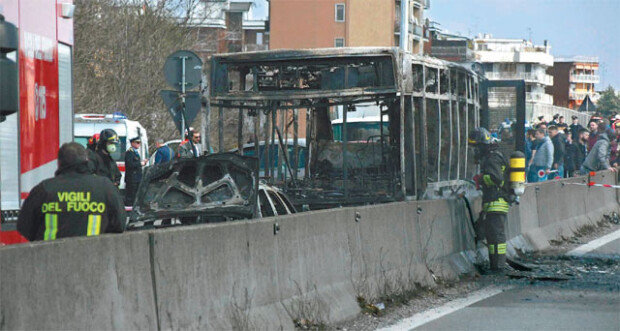 Controversy surrounding the anti-immigration atmosphere in Europe is fueling. A Senegalese bus driver, who was dissatisfied with Italy's anti-refugee policies, kidnapped a school bus and set it on fire, and an anti-immigrant advocate in a region that suffered a "tram shooting" committed by Turkish immigrants, gained much traction at a local election of the Netherlands.
The Associated Press said Tuesday that a school bus carrying 51 middle-school students and a guide was set on fire to be burnt to the ashes on the outskirts of Milan's southeast region. Fortunately, there were no casualties as the passengers had been rescued before the burn-down.
The police arrested the 47-year-old Senegalese driver on charges of arson. The man drove school buses since 2002 and he won Italian citizenship in 2004. He was married to an Italian woman but divorced, and is said to have two teenage children with his previous wife. Some discussed his allegations of drunken driving and sex crimes.
According to the student witnesses, the driver immediately urged stopping the death of refugees taking place in the Mediterranean, blaming Italian Deputy Prime Minister Matteo Salvini for their death. Another student testified that the Senegalese man tried to kill them as revenge for his three daughters, who drowned while trying to swim across the seas to enter Italy, but this has not been verified. The police also secured proof on the preparations he made for the crime. He bought petrol the day before the crime and sent a message to his friends in Italy and Senegal, calling them on to "rise up Africa."
In the Dutch local elections on Wednesday, the anti-immigrant Forum for Democracy made a remarkable progress. The AP predicted that the Forum for Democracy, which was founded in September 2016, will secure as many as 10 seats in the senate. The local news media reported that a Turkish man shot three men to death on a tram in the central Utrecht on Monday, making a prediction about its impact on the elections. A total 570 lawmakers are supposed to be elected in 12 districts in these elections, but the senate composition will change depending on the results as 75 senate seats are decided by local officials. Major parties have put a halt to their campaign trails since the rampage in Utrecht, but the representative of the Forum for Democracy challenged the government, claiming the incident took place as result of a failed government immigration policy.
wizi@donga.com · oldsport@donga.com