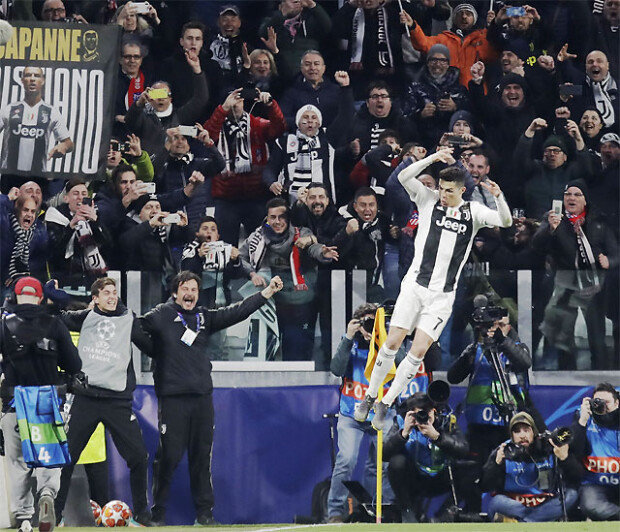 "Maybe that's why Juventus signed me. To help do things that they have never done before," Cristiano Ronaldo proudly said after producing his best performance since he moved to Juventus (Italy) from Real Madrid (Spain) in July last year.
Juventus and Atletico Madrid met in their second round of the 2018/19 UEFA Champions League (UCL) knockout stages on Wednesday in Torino, Italy.
Juventus, which was defeated 0-2 in the first round, not only had to win the second match against Atletico Madrid but needed to score three goals without losing one to advance to the quarterfinals. Ronaldo led his team's 3-0 victory by scoring a spectacular hat-trick. Some 40,000 spectators chanted "Ronaldo" when it was decided that Juventus will advance to the quarterfinals with a 3-2 lead on aggregate.
Ronaldo scored a header, receiving a cross from his teammate in the 27th minute. Although a defender was standing in front of him, Ronaldo outjumped him. He scored another header in the 48th minute and converted a penalty in the 86th minute.
Before the match, Ronaldo had scored only one goal in the UCL this season. Moreover, he had three scoreless matches in a row, leaving many to think that he is not as good as he used to be. The AP reported that Ronald scored his first hat trick since joining Juventus in the summer and it was "just when they needed it most." Ronaldo vowed to bring the Champions League trophy to Juventus. It was the 1995/96 season when Juventus last won the UCL.
Yun-Cheol Jeong trigger@donga.com