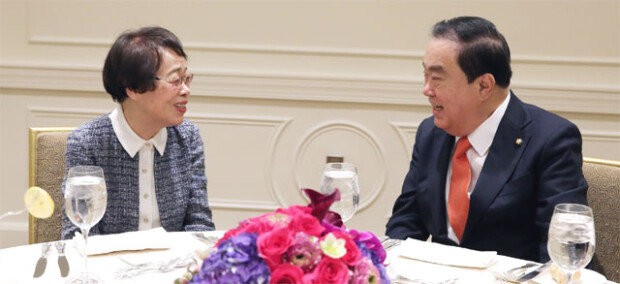 National Assembly Speaker Moon Hee-sang met with Shin Chang-hyu (85, New York resident), a granddaughter-in-law of Hong Jin (penname Man-oh, 1877-1946) who served as the last National Assembly Speaker of Korea's provisional government, at the New York Lotte Palace Hotel on Thursday. Moon invited Shin to luncheon to thank her for pledging to donate a state seal of the National Assembly of the Republic of Korea's provisional government 100 years ago.
The state seal from the provisional government, which Shin has pledged to donate, is a wooden seal measuring 5 centimeters each in length and breadth, and 6 centimeters in height. The seal, which has the carving reading "seal of Provincial National Assembly," was used for official documents of the provisional government from 1919.
Hong Jin returned from China to Korea by carefully keeping four seals including a provisional government state seal on his waist right after Korea's liberation in 1945. Hong Seok-ju, Hong Jin's grandson and Shin's husband (who died in 2016), was so cautious in handling the seals that he even hid them in his pillow when evacuating Seoul right after the outbreak of the Korean War.
"Hong Jin served three terms as National Assembly Speaker, and served on the position that is equivalent of the president at present," Moon said. "As I meet his bereaved family, I was able to feel Hong's deep love of his fatherland, and the spirit independent fighters' decedents have in their heart."
Yong Park parky@donga.com