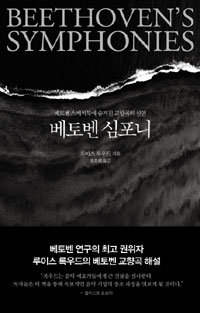 The main theme of Beethoven's Symphony No. 9 Coral's first movement appears after a loud sound of confusion, only to be veiled by the tune of low-tone string instruments as if the theme is rejected. The second and third movements are also "rejected" afterwards. It feels as if the themes in those movements withdraw because they fail to satisfy specific "demands." What was Beethoven trying to tell us with the symphony?
Everything became clear when I saw the musician's sketch of the symphony. In the first draft, a baritone solo responds to each theme of movements with a song with lyrics. After the first movement, the baritone turns its nose up saying, "What I need is something brighter than this." "It is bright but not better," it continues saying after the second movement. After adagio of the third movement, it announces, "It is too sweet. I need something more vibrant."
Many books analyze and interpret nine Beethoven symphonies. This book did an excellent job in tracking the sketches he left and vividly showing how each symphony was conceived, developed and completed.
Beethoven's Symphony No. 3 Eroica starts with powerful E-flat major chords and fast triple time. But the first draft had a slow, quadruple time intro. The symphony became completely different from the previous two after deleting it.
This book shows more than just the process of composing each symphony. The symphony No. 5 was known as Destiny, but the title was forgotten as the message of Beethoven's associate Schindler — Beethoven said, "Destiny knocks on the door like this" — was discredited. The author comments that his message had credence, quoting Beethoven's letter that said, "I will hold my destiny by its throat." The German composer and pianist used to praise nature while composing the symphony No. 6 Pastoral, which lets us look more deeply into his mind.
This book would appeal to enthusiasts who want to understand Beethoven more analytically and musicians who are preparing to play his symphonies.
gustav@donga.com