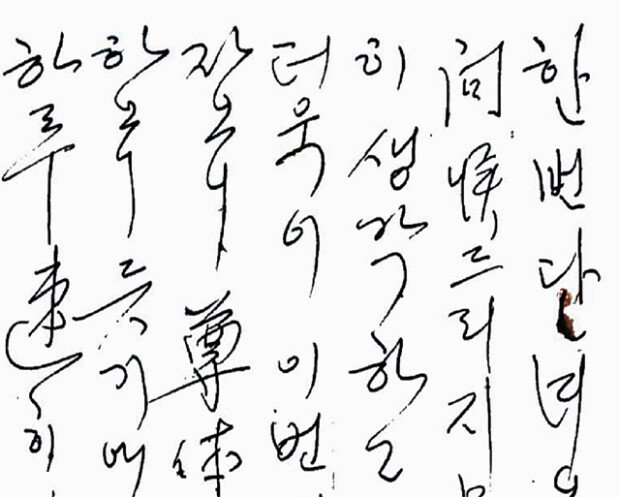 Legend has it that a rare bird weeping on a willow tree at Seodaemun Prison's execution site is called "Bong-am Bird" or "Juksan Bird." Jo Bong-am, whose penname was "Juksan," served as a member of the first National Assembly, the first agriculture minister and deputy speaker of the National Assembly after ditching communism following Korea's liberation from Japan's colonial rule. He ran for president in the second and third presidential elections, ending up as a runner-up. He won more than two million votes in the third presidential election. In July 1959, he was sentenced to death for being a North Korean spy and executed at the Seodaemun Prison.
His unhesitant brush strokes suggest that he was a smart man. After liberation, Jo converted from Bolshevism championing violent revolution to democratic socialism that advocated parliamentary democracy and gradual reform of capitalism. Europe's post-war development proved that he was right. His big characters are indicative of his audacity. With his execution approaching, he remained calm, saying that it was "common" for a loser to be killed by a winner. The long horizontal lines suggest that he was a man of perseverance. It is said that he never gave up or got frustrated.
His handwriting indicates that he was an honest and righteous man. Habitual liars' handwritings are often disorderly, unintelligible, light pressed, unnatural, and inconsistent in baselines, slopes, sizes, spaces and speed. Or they often revise or correct what they already wrote.
The balanced square shape of his writing also suggests that he was a righteous person. The judge of his first trial who sentenced him to five years in prison said he could not understand the appeals court's death sentence. A Supreme Court judge who handled Jo's case said he admitted that Jo was no longer a communist or a sympathizer after his ideological conversion. Finally, the Supreme Court declared him innocent in January 2011 after a re-trial.
yes@donga.com