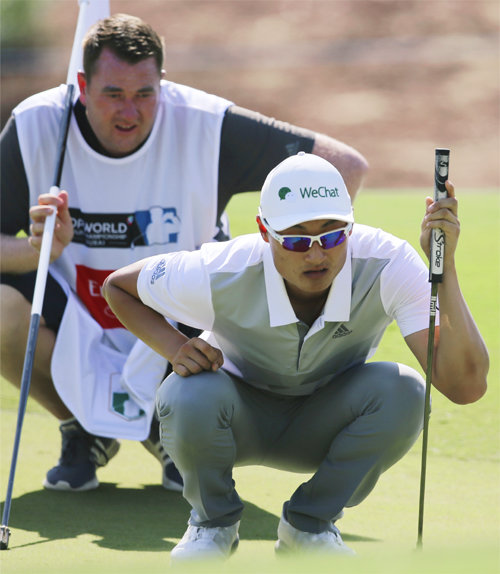 The new Golf Rules revised by the R&A and the USGA for the new year pursue a playstyle that is "easier and faster." Such a policy direction for swiftness of the sports can be found in most sections of revision such as the time allowed to find lost balls being cut to 3 minutes from 5, a new procedure to drop the ball at knee height, and a recommendation to play "ready golf" for prompt pace of the game.
It remains to be seen whether the new rule that allows puttings with flagsticks on the green will help cut the playtime, but the revised rule banning caddie alignment is certainly facilitating the pace of the sports. This can be felt in the various golf tournaments that are taking place across the world this year.
Among the new rules, one section prohibits caddies from standing behind the player for better aims, and a penalty has been meted out for breach of the rule in an official tournament for the first time this year.
In the final round of the Dubai Desert Classic on Sunday, Haotong Li of China had to witness his birdie turn into a bogey on his 18th green. His caddie moved away from the course right before his putting stroke, but it was considered as infraction of the new rule concerning aiming.
The prohibition stipulates that "once the player begins taking a stance for the stroke, and until the stroke is made, the player's caddie must not deliberately stand on or close to an extension of the line of play behind the ball for any reason." Given a two-shot penalty, the 24-year-old Chinese fell into a tie for 12th from 3rd, which cost him 90,504 euros (roughly 115.55 million won) in prize money.
This sets a symbolic precedent as the penalty was executed without leniency for the defending champion. Some of the South Korean players on the LPGA tours could well find themselves in trouble for the new rules as many are used to getting help from caddies to aim their tee shots or fareway shots. The prohibition applies not only to putts but all other types of shot. This is expected to affect the performance of players with higher levels of dependence on caddies.
ysahn@donga.com