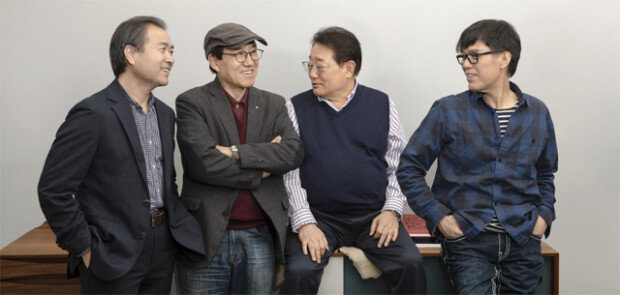 Conversations continued between the two guitar giants of Korea, who are in their late 60s, at a small publishing company building located in Mapo District, Seoul in the afternoon of January 11.
Lee Jeong-seon (age 69) and Yoo Ji-yeon (age 69) are the two guitarists. Lee wrote "Lee Jeong-seon's Guitar Class," made songs such as "Cumulus Clouds" and "The Day She Cried for the First Time," while Yoo participated in hundreds of song records of singers such as Jeong Tae-choon, Park Eun-ok, Lee Seon-hee, and Kim Beom-ryong.
These two guitar experts and singer-song writers, who were within reach but never played together, will have their first joint stage at the Mac Art Hall at Seoul Mapo Art Center. The performance is called "Same Age, Sympathy: Lee Jeong-seon & Yoo Ji-yeon's Concert."
Bookshelves filed one side of the wall in the two guitarists' practice room at the office of publishing company Anna Purma. At the end of this month Lee Jeong-seon will be publishing a "Music Book of Beatle's Songs" and Yoo Ji-yeon will be publishing "Acoustic Guitar Masterpiece" at this place. They were able to have a joint performance with the arrangement by the representative of the publishing company.
"Guitarists divide parts by themselves automatically and play even when there are five guitarists," said Yoo.
Sounds from two acoustic guitars come into harmony naturally. Like two strokes of the river that ran for eternity, they know each other well and echoes the room.
"Music is fun when you play it with others. It is not difficult. We have been hearing each other's music for a long time," said Lee.
Yoo is also planning to showcase his new album at the performance hall. The reason why the name Yoo Ji-yeon is not familiar is because of the old custom of not writing the name of the music arranger. "The guitar music notes that were included in the monthly magazine 'Monthly Pop Songs' were also my work. I was proud of myself but that was it," said Yoo. The new "Acoustic Guitar Masterpiece" became his first book under his own name. "I turned famous pop songs such as the Eagles into musical notes as precisely as possible," he added.
Lee has turned some 180 songs of the Beatles into musical notes. He proclaimed that it is an easy book that can substitute previous musical notes of the Beatles that were interpreted difficultly. He is also planning to provide a revised version of the "Lee Jeong-seon's Guitar Class" this spring. He included singers of today including Roy Kim as his new practice songs.
The greatness of the two guitarists is unfathomable. The answer is in the performance hall. "The Poet and the Village Chief" will make an appearance as a guest at this rare joint performance of the musical acquaintances.
imi@donga.com