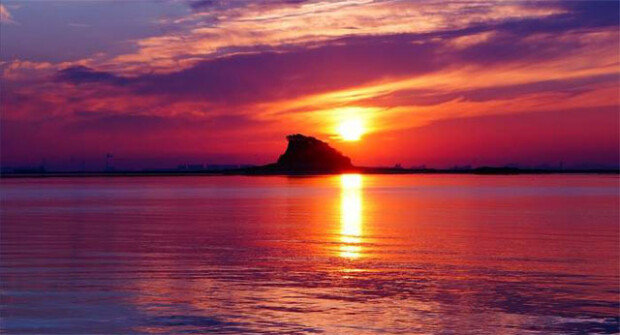 Various events will take place in Incheon City for people to conclude this year and welcome the Year 2019, "the Year of Golden Pig" without worrying about traffic jams and lack of accommodation facilities in remote tourist sites.
According to Incheon Metropolitan City and Incheon Tourism Organization on Sunday, Airport Railroad Express (Arex) will run "2018 Year-end Sunset Train" and "2019 New Year's Sunrise Train." The former will depart Seoul Station, and travel to Incheon International Airport Terminal 1, Yongyu Station, Incheon China Town, Donghwa Village and Eulwang-ri Beach. The train will depart once daily from Seoul Station at 11:30 a.m. on December 23, 24, 25, 29 and 30. The passengers can experience the magnetic levitation train from Incheon Airport Terminal 1 to Yongyu Station, before enjoying sunset at Eulwang-ri Beach.
"2019 New Year Sunrise Train" will depart from Seoul Station at 5:20 a.m. and 5:40 a.m., respectively on New Year's Day. Passengers will transfer to free shuttle buses at Airport Cargo Terminal Station to visit Geojampo Port to enjoy the first sunrise of the New Year.
Incheon Tourism Organization will give away hot packs and fortune cookies to 5,000 people at the site of sun-greeting. For more information, please visit Arex's website (www.arex.or.kr).
A sundown event will take place on the waterfront stage at Arabit Island at Jeongseo-jin beginning at 3 p.m. on December 31. "Nakhwa Nori," a traditional fireworks display, will be staged on the island as the finale of the event. Visitors can wrap up this year while watching burning fireworks there.
Palmi Island Sun-greeting Cruise will depart from Yeonan Pier in Incheon at 6 a.m. on New Year's Day, and passengers will fly wish-making balloons at the top of Palmi-do Lighthouse, home to Korea's first lighthouse, before eating tteokguk (rice cake soup).
At 5 p.m. on December 31 and at 7 p.m. on New Year's Day, visitors to Wolmi Park and Wolmi Observatory can enjoy a panoramic view of shores of the Yellow Sea around Incheon while listening to music.
Jun-Ho Cha run-juno@donga.com