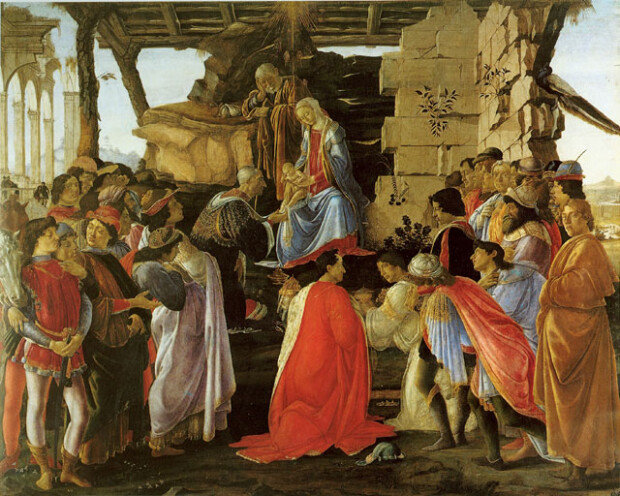 Wealth ensures comfort, but extravagance gives power. The House of Medici, which amassed a great amount of wealth via banking business, had the strongest political power in the Firenze in the 15th and 16th centuries. The Medicis sponsored art for generations and played a key role in helping Renaissance Art flourish. Sandro Botticelli, who knew how to skillfully reflect the tastes of contemporary leaders in power, was adored by the Medicis. This painting, which depicts Magis visiting the birth of Christ, was the first piece that famed Botticelli. It is a masterpiece that is praised for its excellent composition, colors and realistic expressions that is well beyond maturity as a relatively young artist who has just turned 30.
But one may notice that the details of the picture are quite odd. In the picture, Christ is not born in a shabby manger, but at the ruins of an ancient building. The people shown in the painting, including the Magis, are not wearing clothes from the times of Jesus, but fashion of the 15th century in Firenze. Moreover, the Magis resemble the Medicis. The white-haired man clothed in black sitting in front of Jesus is Cosimo de Medici, the ruler of Firenze at that time. The one who is wearing a red cloak in the middle is his son Piero, who is sitting next to his brother Giovanni. But the resembling Medicis were dead when the painting was commissioned and Lorenzo, the grandson of Cosimo, was the ruler at that time. Then, was the painting commissioned by Lorenzo? No, it was Gaspare di Zanobi del Lama, who is shown pointing at himself in the picture on the right hand side. A self-made man who earned success through money exchange, Gaspare commissioned this painting to impress the Medicis. It was also a token of loyalty to top power.
Then who is the person on the far right wearing a gold cape, gazing at the viewers of the painting and explaining the situation? It is Botticelli himself, displaying his loyalty to his sponsors, the Medici.