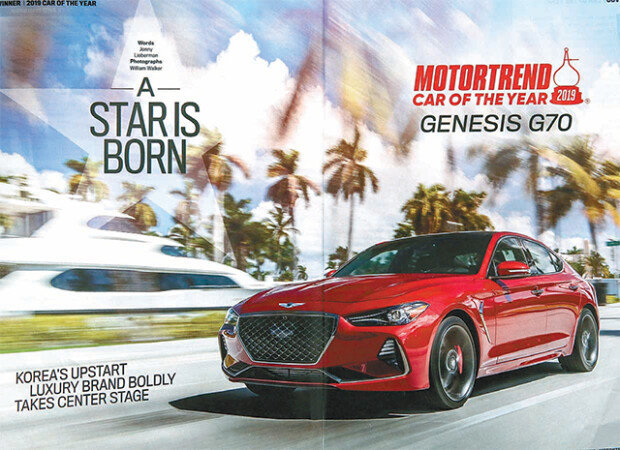 Hyundai Motor's Genesis G70 has been named "the 2019 Car of the Year" by an American automobile magazine. While the luxury brand's sports sedan is believed to have made a successful debut in the American market, attention is now focused on whether the South Korean automaker can take this as an opportunity to enhance the value of its Genesis brand in the United States.
A U.S.-based automobile magazine Motor Trend announced "the 2019 Car of the Year" in its January 2019 edition published online last Tuesday (local time). Since its inception in 1949, the magazine has announced the awardees every year, and there has been no South Korean automobile to become a winner until the Genesis G70. The 2019 Car of the Year finalists include Audi A6, Audi A7, Honda Insight, Hyundai Veloster, Volvo S60, and Volvo V60.
Motor Trend titled a related article "A Star is Born: Korea's upstart luxury brand boldly takes center stage," introducing the history of the South Korean carmaker. "The year is 1985, Ronald Reagan just began his second term in the White House, and a new Korean car company was selling a Giugiaro-designed hatchback. Americans couldn't pronounce the name of the brand. And its little Excel did anything but," it added.
Eun-Taek Lee nabi@donga.com