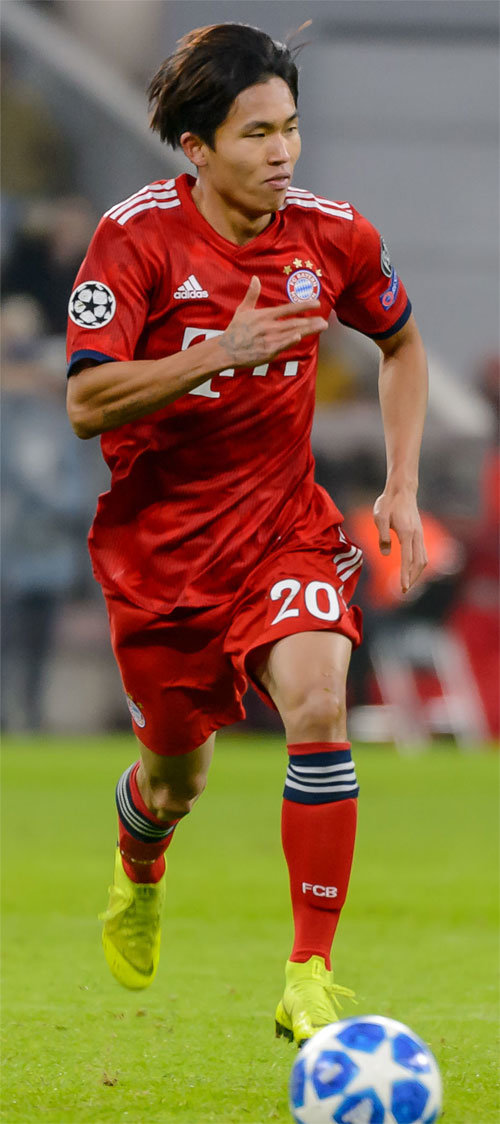 Bayern Munich's South Korean teenage prospect Jeong Woo-yeong has made his first-team debut in the UEFA Champions League club football tournament.
The 19-year-old midfielder entered the pitch in the 81st minute to replace Thomas Muller, contributing to his team's Bayern's 5-1 win over Benfica (Portugal) in a Group E match in the UEFA Champions League at Allianz Arena in Munich, Germany, on Wednesday.
Jeong became the ninth South Korean soccer player to play in the top European club football tournament, following Seol Ki-Hyeon, Song Jong-guk, Lee Chun-soo, Park Ji-sung, Lee Young-pyo, and Son Heung-min. Jeong also broke Son's record for the youngest Korean debutant to the Champions League by two years.
Jeong is considered South Korean football prospect, as he is an ambidextrous footballer and has a sincere attitude. One of his major challenges is to build up his physique to survive in the European league.
"I did not expect to enter the pitch," he told reporters after the match. "I am so pleased to set foot on the Champions League that I had only dreamed of." Jeong signed a 4.5-year contract with the German club in June last year, when he was a student at Daegun High School, which has a youth team under South Korea's Incheon United FC. Becoming the first Korean player to put on Bayern's uniforms, he could not join the club's under-19 team until January this year due to the FIFA's ban on transfers of players under age 18. After scoring multiple goals in his second-team debut match in early July, Jeong had been shuttling between the first and second teams during the latter half of this year.
Kim Hong-geun, head of HK Sports Management who serves as Jeong's agent, said that Jeong's Bayern colleagues including Joshua Kimmich had congratulated the Korean player's debut. "(Jeong) seems to be more motivated than ever as he had a good opportunity at a time when he was settling into his life in Germany while learning the German language at the club's sponsorship," the agent said.
Jeong's debut has also heated up South Korean soccer fans. Bayern Munich is one of Germany's most prestigious football clubs that won more than 28 Bundesliga championships, including the latest six-season winning streak. Having won five Champions League titles, Bayern is considered one of the world's top-three clubs, together with Real Madrid and Barcelona. As some of Bayern's key players including Arjen Robben (the Netherlands), Franck Ribéry (France) and Robert Lewandowski (Poland) are now in their 30s, there is growing expectation that Jeong will be given more opportunities.
Jae-Hyeng Kim monami@donga.com