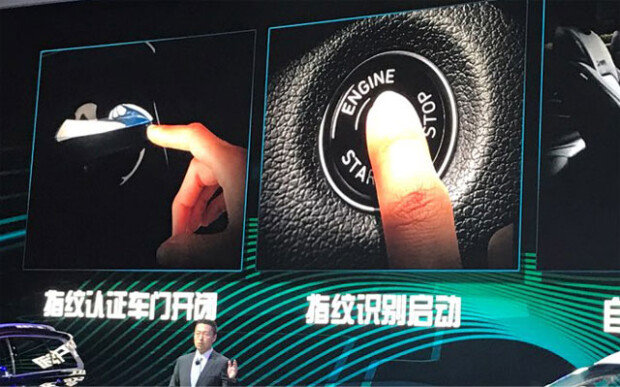 In the film "Mission: Impossible – Fallout" released in July, there is a scene where Tom Cruise opens the door of his BMW with his fingerprint. In reality, Hyundai Motor Co., not BMW, has become the first carmaker in the world to commercialize the technology.
South Korea's biggest automaker showcased "the fourth-generation Santa Fe SUV," an upgraded version of the Santa Fe sport utility vehicle for China, at the China Guangzhou International Automobile Exhibition on Friday (local time). A fingerprint system, which allows drivers to open and lock doors, and even start the engine without keys, has been applied to the new SUV for the first time.
Car handles on each side are equipped with a fingerprint sensor, so drivers can open and lock doors without keys if they have set up the system with their fingerprint in advance. Also, people can start the car and adjust the angle of the side-view mirror and the seat through the built-in system using their fingerprint information.
The newly adopted technology is nearly the same as the one applied to smartphones in terms of security and recognition system. "You may need to have a fake fingerprint made of silicon to deceive the sensor. Fingerprints left on a glass or mirror are incomplete in most cases, so these will not be able to unlock the sensor," said a Hyundai official.
The fourth-generation Santa Fe SUV for Chinese consumers has a more grand design with the length of 4,930 millimeters, which is 16 centimeters longer than the South Korean model and the same as the length of Kia Motors' SUV Mohave. The SUV will be available for purchase in China in the first quarter of 2019.
Meanwhile, Kia Motors also unveiled the new KX5 sport utility vehicle, the same size as Tucson and Sportage, as part of their efforts to boost sales in China.
Eun-Taek Lee nabi@donga.com