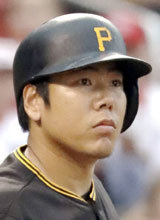 "I will try harder to become a better person both in and outside the ballpark next year," Kang Jung-ho said in a Twitter post in the Pittsburgh Pirates' official website on Friday. He expressed his gratitude after signing 1-year contract worth up to 5.5 million U.S. dollars with the team.
Kang displayed good performance for two years after making his Major League debut through Pittsburgh in 2015, but was caught while driving under influence in Korea in late 2016. As this incident led to revealing of his past drunk driving records, he failed to receive a U.S. work visa, and had to skip the entire 2017 season. He only played three games in the last season due to wrist surgery, posting two hits from five times at bat.
Pittsburgh, which originally had the right for a 5.5-million-dollar option contract with Kang for next season, did not renew his contract after paying a buyout fee of 250,000 dollars. This time, however, the team set his compensation at the same amount by adding bonuses, while lowering the guaranteed payment. With slugging capability, the South Korean right-handed batter will likely vie for the starting third baseman position with rival players.
Heon-Jae Lee uni@donga.com