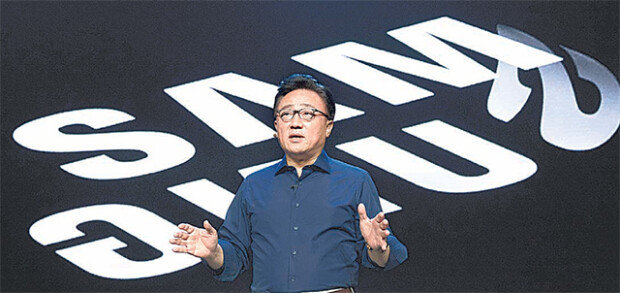 Samsung Electronics unveiled the "One UI," its next-generation mobile user experience that will be applied to its foldable smartphones, at this year's Samsung Developer Conference (SDC) held at Moscone West in San Francisco on Wednesday (local time).
The One UI minimizes factors disturbing users' focus on the smartphone display while providing intuitive experiences. Samsung's first foldable smartphone also supports convenient use of smartphones with simple icons, screen arrangement that improves readability and accessibility, and one-handed mode.
The Korean tech giant gave a glimpse of the "Infinity-Flex Display," which will be applied to its foldable devices. As the display is still under development, the presenter on the stage briefly showed it to the audience instead of unveiling its prototype.
With foldable smartphones, users will be able to use applications on bigger display. Samsung's foldable smartphones will make multitasking easier by enabling users to use three applications, such as internet browser, multimedia, and message, at the same time on a bigger display. "Samsung teased its upcoming foldable smartphones by folding its logo in half on stage behind Samsung IT & Mobile Communications President Koh Dong-jin," an industry official said. "The design of foldable smartphones will not be different from expectations, folding in half and unfolding back again."
Samsung Electronics said it would closely collaborate with Google from the software development stage. The company said it would open test tools, such as emulators so that developers can participate in the development of applications for foldable smartphones. The exact date of release has not been announced yet but it is highly likely that the company's foldable smartphones would be unveiled early next year.
Ji-Hyun Kim jhk85@donga.com