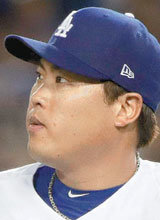 Ryu Hyun-jin, the first South Korean to take the mound in the World Series as starting pitcher, saw his dream slipping through his fingers Monday. In World Series Game 5, the Los Angeles Dodgers suffered a 1-5 loss to the Boston Red Sox, putting an end to Ryu's season. The South Korean was scheduled to pitch for Game 6, which would have taken place on Wednesday, had Dodgers won the Monday game.
Ryu Hyun-jin is slated to enter free agency this winter as this was the final season of the six-year, 36-million-dollar deal he signed in 2013. He could stay with Dodgers or move to a different team.
Ryu is a competent left hander tried and tested in the Major League baseball. Despite the near-absence in 2015 and 2016 for his shoulder and elbow surgery, Ryu has achieved 40 wins and 28 losses, keeping his ERA as low as 3.20. This year, his record stood at 7 wins, 3 losses, and an impressive ERA of 1.97. Early this season, the South Korean pitcher suffered severe groin injury, which led to a three-month rehab period, but he returned in a superb form in mid-August, helping his team win the National League West division title. In Division Series Game 1 against Atlanta, Ryu was selected as starting pitcher over the Dodgers ace Clayton Kershaw, blocking the Braves for seven innings and eventually becoming the winning pitcher of the game.
There is a skeptical view on his endurance, however. It was only in 2013 and 2014 that he threw more than 150 innings per season since his debut in the Major League. The 2018 postseason was a good chance for him to show that he's got a knack for the big stage. But in both of his postseason appearances against Milwaukee and Boston, Ryu did not survive more than five innings on the mound.
Heon-Jae Lee uni@donga.com